Safety Tips For Flying During COVID-19
4 Tips For Safely Flying During the Coronavirus Pandemic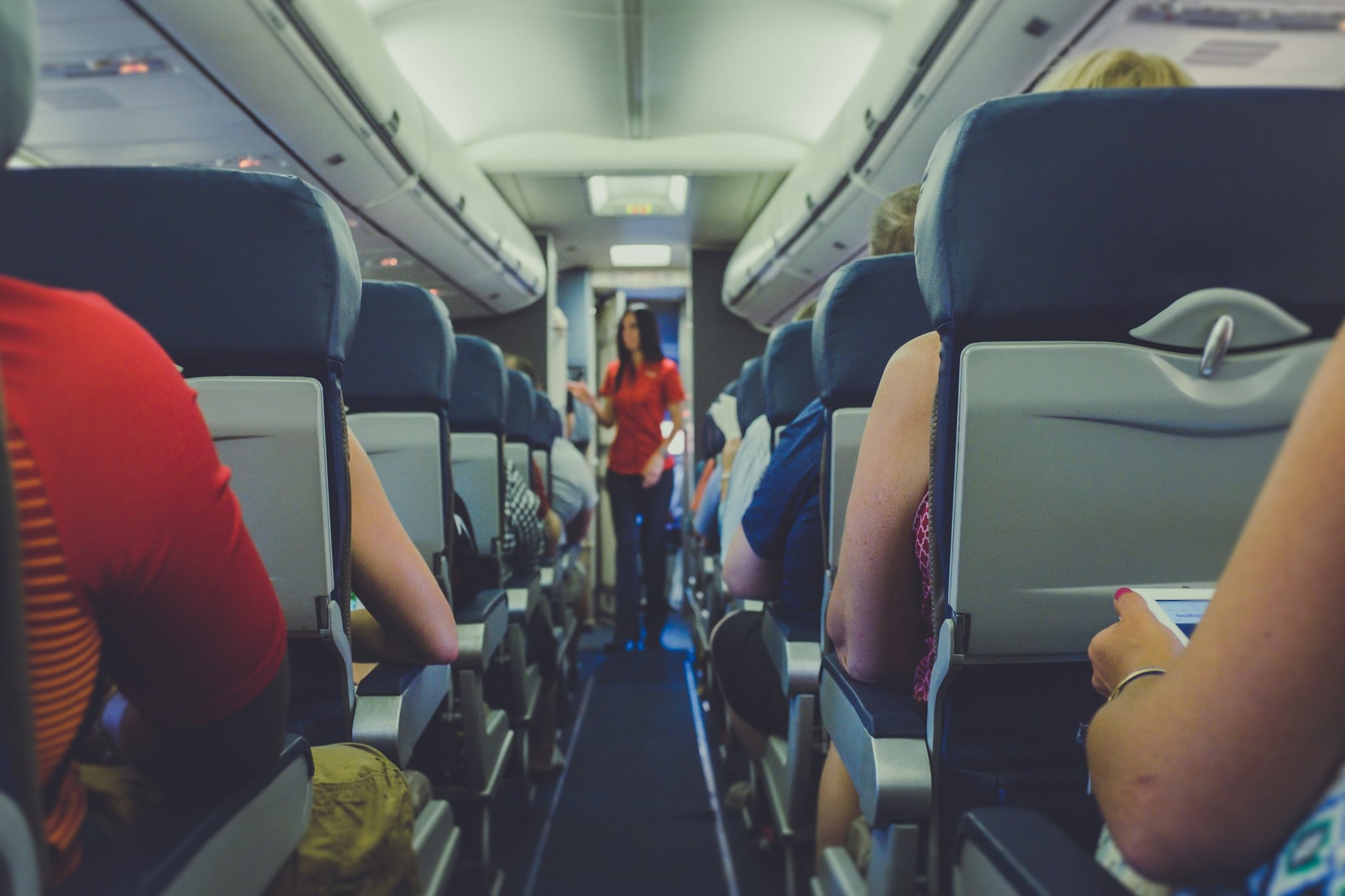 Who else can't wait to hear the words, "This is your captain speaking. Flight attendants, please prepare for takeoff"? While travelling and taking holidays has mostly been put on hold due to the ongoing coronavirus pandemic, many people are still flying — both out of necessity and not. Small getaways, moving, and travelling home to be with family are just some of the reasons people are still getting on planes right now. While staying home as much as possible right now is best, whatever your reason for flying is, it's so important to take every precaution to keep yourself — and others around you — as safe as possible on your journey.
If you're not sure where to start or how to plan accordingly, POPSUGAR spoke with a flight attendant for a major airline who wishes to remain anonymous about what you can do to have the safest flight possible. Keep reading for her tips, as well as recommended health and safety guidelines, below.
Really Think Before You Go
Trust me — I've also been eyeing beach resort getaways and national park adventures, but anytime you get on a plane, you're putting yourself at risk. The Centres for Disease Control and Prevention poses a few questions for you to think about before you go:
Is COVID-19 spreading where you're going?
Is COVID-19 spreading in your community?
Will you be within six feet of others during or after your trip?
Are those you are travelling with more likely to get very ill from COVID-19?
Will the state or local government where you live or at your destination require you to stay home for 14 days after travelling?
All of these questions can help you determine if your trip, no matter how essential it is, will take a toll on yourself, your loved ones, and your holiday days. If you can avoid flying, do.
Take Every Safety Precaution
If you do decide to travel by aeroplane, it's important to wear a mask the entire time, stay six feet away from others as often as you can, wash your hands frequently, and wipe down your seat before and after use. U.S. Travel Association President and CEO Roger Dow issued a statement about the importance of this, saying, "The travel community strongly urges visitors and residents alike to wear masks and adhere to all healthy practices, such as physical distancing, frequent hand washing, and remaining home if sick — no matter where you may be travelling in the country." This will help minimize the risk of getting COVID-19 or passing it to others before symptoms are present.
Listen to Your Flight Attendants
Just a friendly reminder that your flight attendants are trained professionals who know how to keep everyone safe onboard an aircraft, execute emergency procedures, and keep everyone calm during critical conditions. With that being said, they have also received training on flying during coronavirus, so they are great resources on flights.
"The most important thing customers can do is to keep their masks on while on a flight or at the airport, and to stay socially distant," the flight attendant told POPSUGAR. "I would even suggest to passengers to eat a good, healthy meal before your flight so you don't have to take off your mask to eat on the plane. Also, washing your hands is super important, and you should keep hand sanitizer with you and put it on before and after you eat or drink on the plane. And remember, don't touch the flight attendants if you need something. Having respect and being kind to flight attendants is so important."
Right now, many airlines are doing enhanced cleaning procedures between flights, but you should always stay cautious and remain vigilant. Additionally, some airlines are keeping the middle seats open right now to help with social distancing, although not every airline is enforcing that rule, so passengers need to be careful. Feel free to call ahead and ask about their current policies before you book your flight.
Fly Alone If Possible
If you can, try not to travel with anyone right now, including family members and young children. Kids under two are not able to wear masks as it impedes their breathing, so they're more at risk automatically. Toddlers and older kids are more likely to touch everything, cough or sneeze without covering their mouths, play with their masks, put their fingers or hands in their mouths, and other unsafe practices. My kids love licking windows, which is also not really a good idea right now (or, um, ever?). If it's not possible to leave the little ones at home, then bring things to help distract them. Now is not the time to worry about screen time or sugary snacks — these will help keep them happy and keep their hands to themselves.