The Most Talked-About Shows at London Fashion Week SS2022
5 Standout Shows From London Fashion Week that Are Defining Style in 2022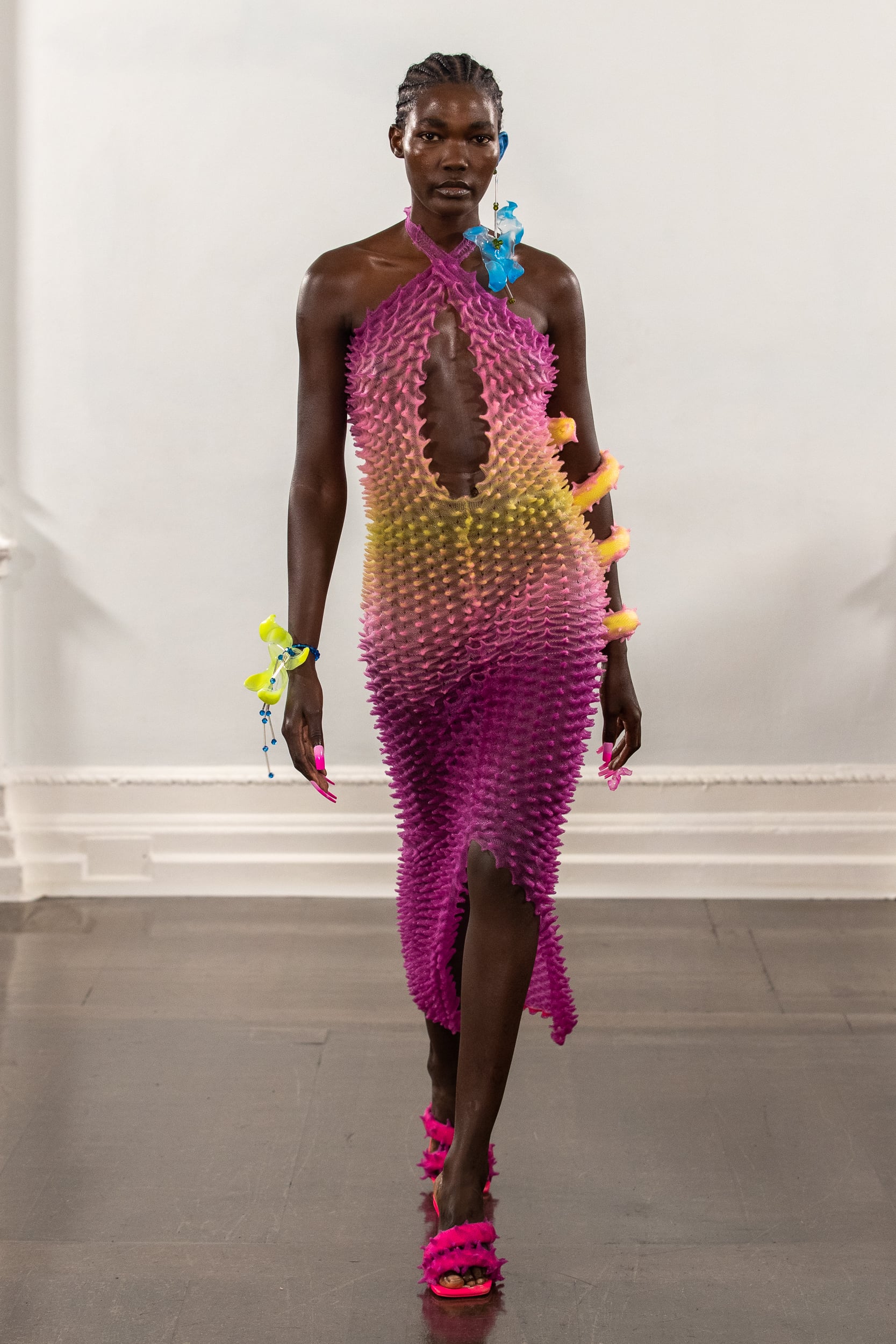 Image Source: Chet Lo
If there's one thing that the designers at London Fashion Week can agree on is that we're all craving punchy, vibrant colour. Oranges, pinks, yellows, and greens took centre stage at our favourite shows. Vivid colour palettes were complemented by sheer fabrics, ruching, ruffles, feathers, '90s/Y2K strappy details, and '60s/'70s halter tops. The shows at LFW brought a much-needed pick-me-up to the fashion calendar, but there were five standout collections that will define the city's spring/summer 2022 aesthetic.
While chatting to showgoers and monitoring the social timelines, Rejina Pyo's new collection was one of the most exciting events at LFW. Pyo's inspiration was vivid sunset-inspired colours fading in and out, while our bodies move through the transparent waters of a swimming pool. In the show notes, Pyo shared that the 1964 short story "The Swimmer" by John Cheever was a unifying narrative throughout the collection. "She had been swimming, and now she was breathing deeply, stertorously, as if she could gulp into her lungs the components of that moment, the heat of the sun, the intenseness of her pleasure. It all seemed to flow into her chest," Pyo quoted an extract from Cheever's story.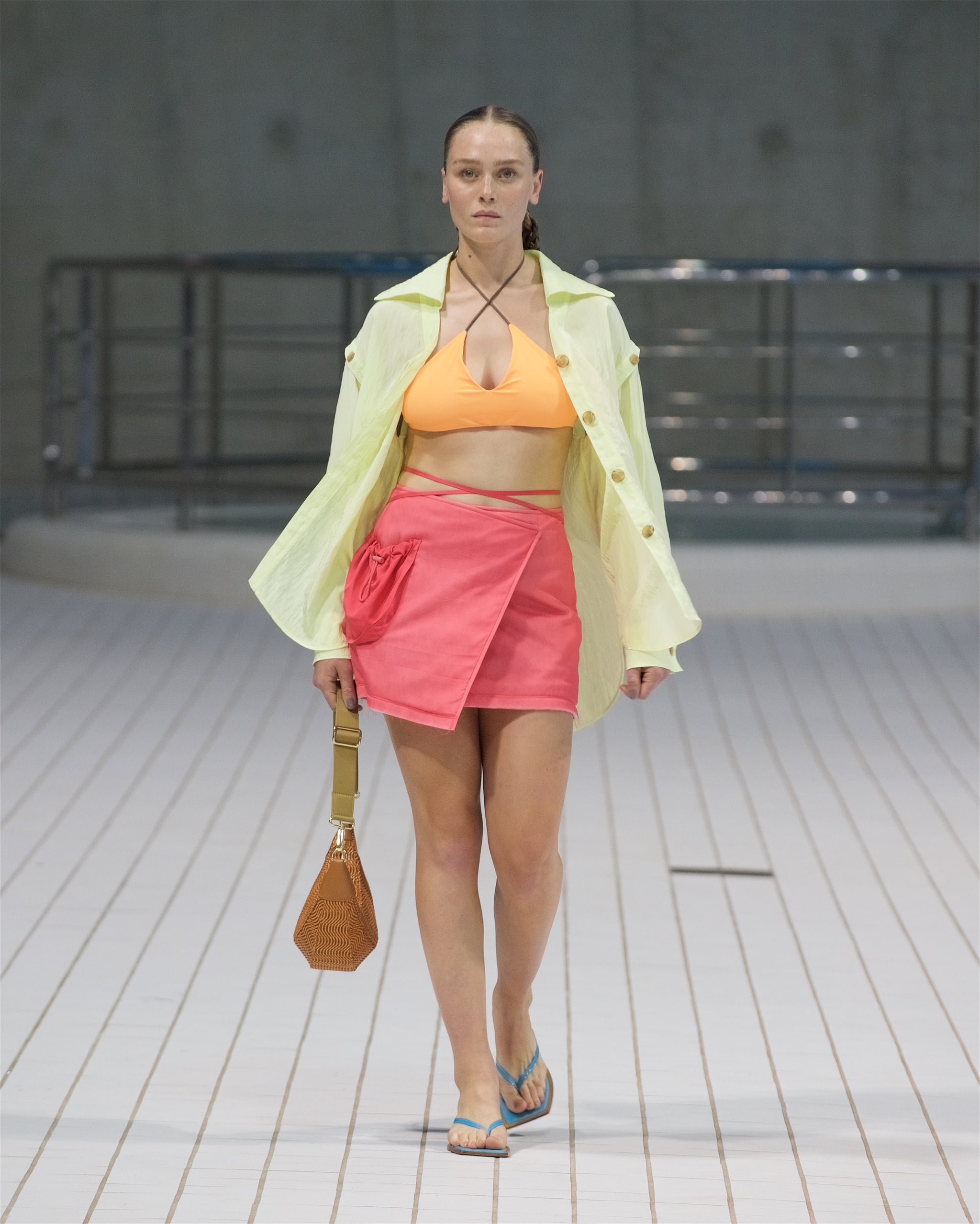 Image Source: Rejina Pyo
Collections from Rixo, Chet Lo, Maximilian, and Richard Quinn also made it to the top of our lists, because of diverse casting, exceptional designs, joyful colours, innovative fabrics, and a general buzz that they inspired in fashion enthusiasts. Fashion East always delivers, and for spring/summer 2022, Chet Lo and Maximilian are continuing the fashion incubator's legacy for producing top-notch talent. Lo's new collection "Splash" is bringing back those oddly satisfying popcorn tops from the early aughts (called durian tops by the designer), but with a twist similar to Pyo's aesthetic — vibrant punchy pinks and yellows, with design details inspired by swimmers. There's also a trend of sheer, sensual dresses that we loved at Maximilian's "ScarletIbis" collection, also seen at Chet Lo, Rejina Pyo, Supriya Lele, Osman, and 16Arlington.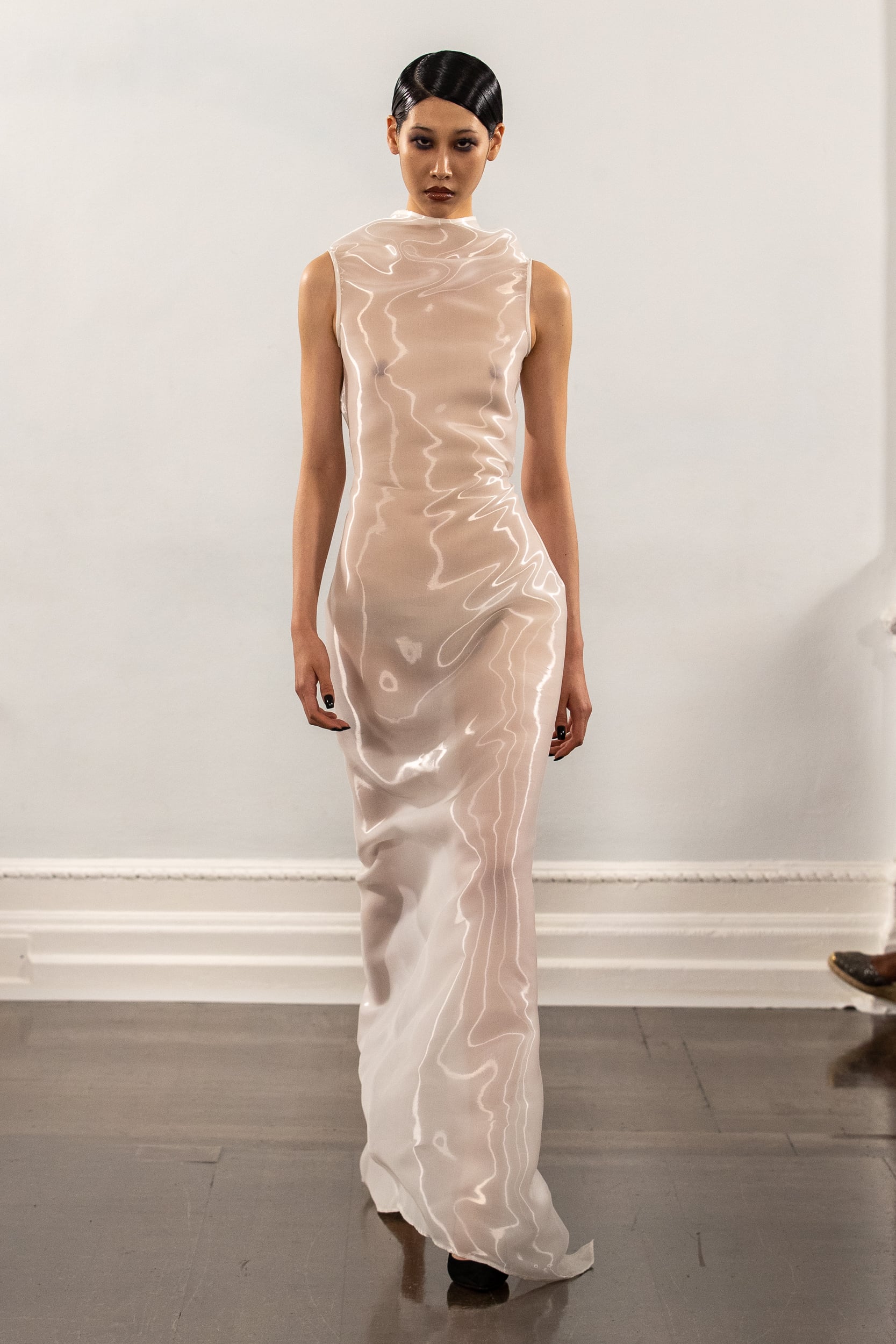 Image Source: Maximilian
Rixo is always a winner on the fashion calendar, because of its wearable dresses that are beloved by London's style set. For spring/summer 2022 it seems that Rixo — like fellow standouts Rejina Pyo, Chet Lo, and Maximilian — is inspired by tropical sunsets, swimming, and taking a trip to a warm destination. Rixo's "Bon Voyage" takes design cues from founders Henrietta Rix and Orlagh McCloskey's favourite holiday destinations. "The prints have a true spirit of holiday and happiness. I painted little dancing women with maracas, palm trees with coconuts and big Mexican Sombrero hats! I hope it brings lots of joy to women who wear the pieces next summer," McCloskey shared in the show notes. Rix added that "We want as many women as possible to feel the best versions of themselves in RIXO. We are so pleased to finally be able to launch a wider size range to make women feel special and truly confident in RIXO. Bring on next summer!"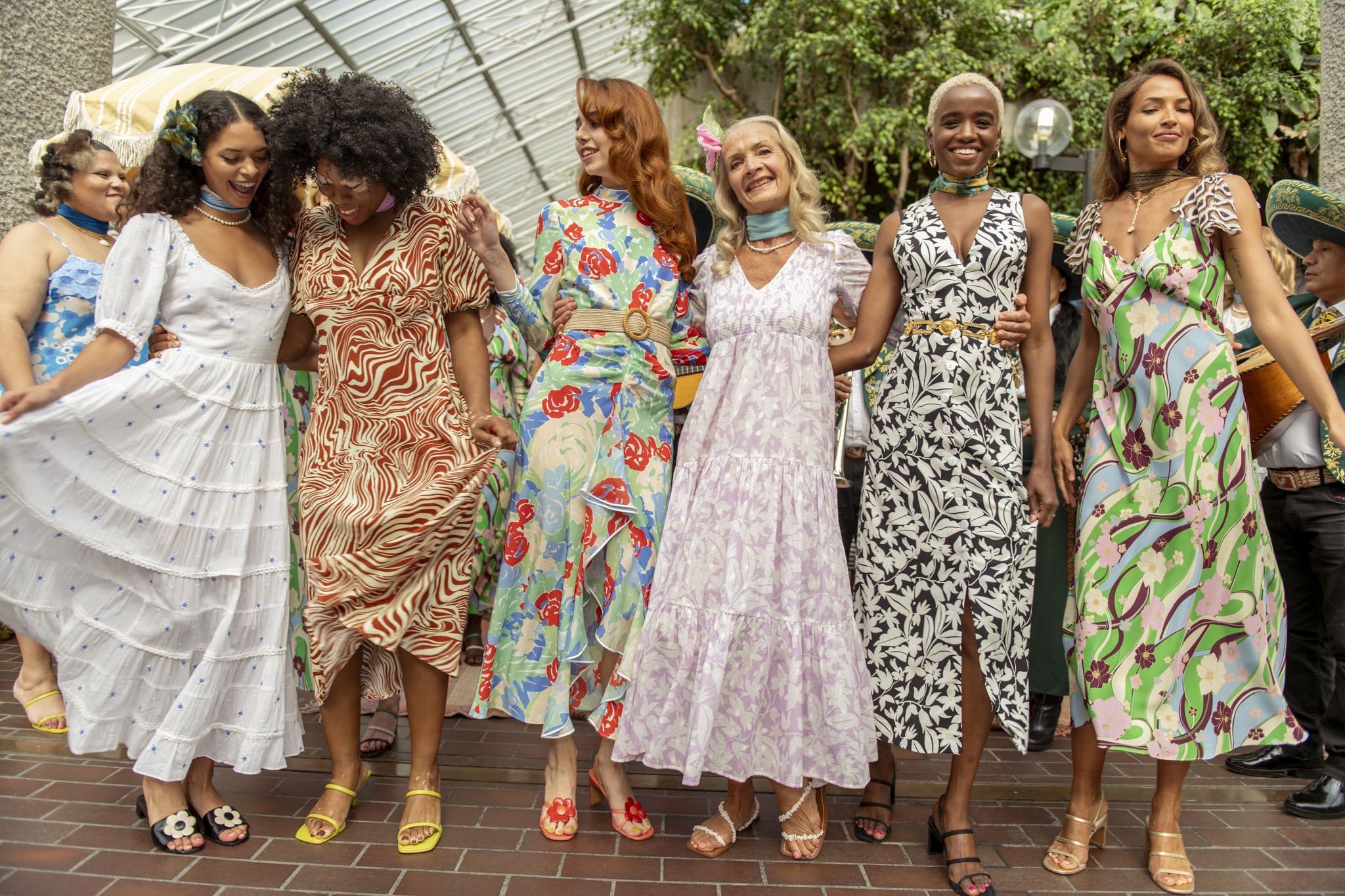 Image Source: RIXO
To close out London Fashion Week with a bang was Richard Quinn who gave a star-studded show that is always appreciated. Lila Moss opened the show with mum Kate Moss cheering her on from the front row. On the catwalk, we were buzzing to see RuPaul's Drag Race UK stars Bimini Bon Boulash and Tayce, while Nicola Coughlan, Dina Asher-Smith, Mabel, and Mahalia were also in attendance. Of the collection, Quinn introduced intense colourblocking, but eagle-eyed critics like Diet Prada noticed similarities between Quinn's and Balenciaga's collections.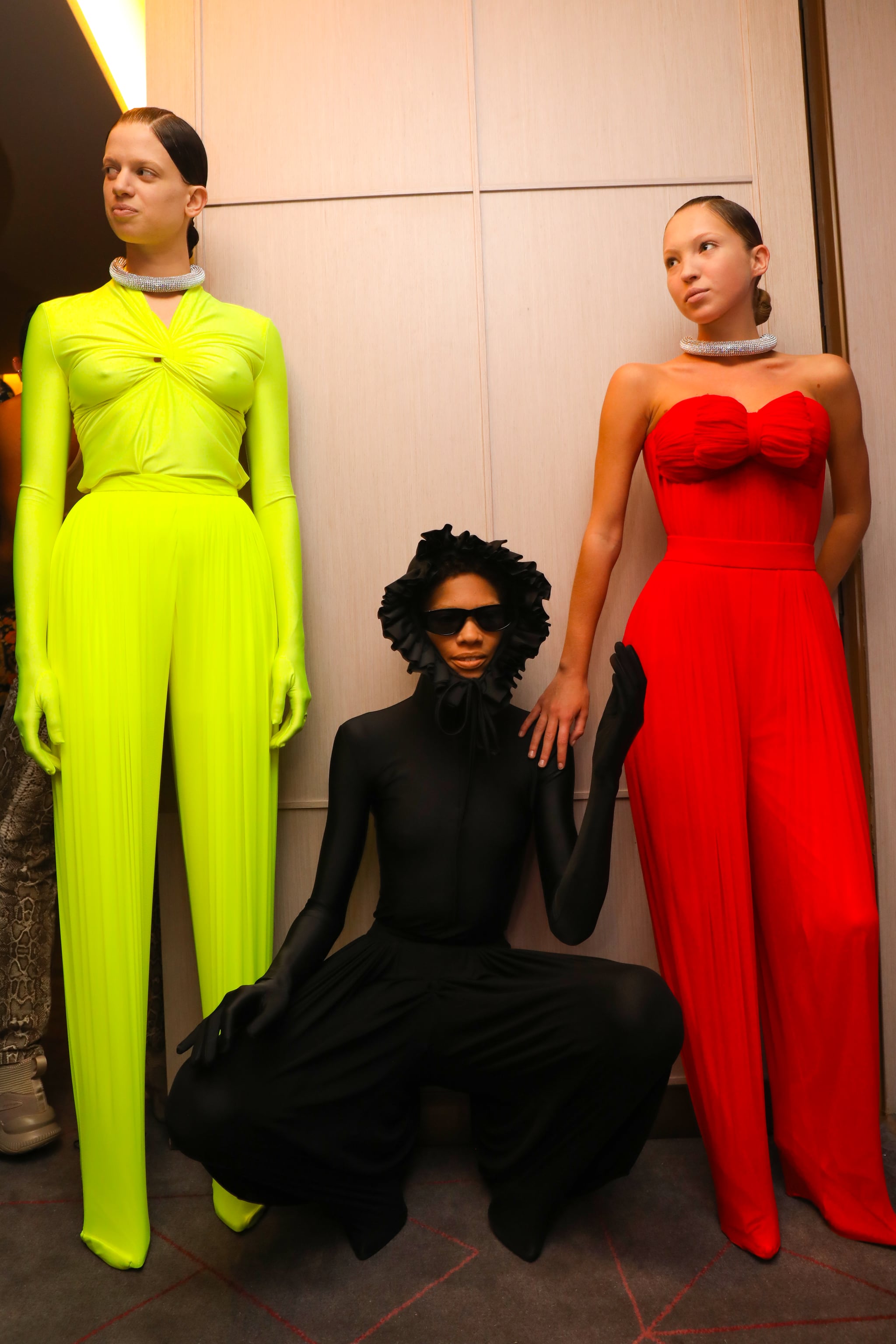 Image Source: Getty
In particular, both Quinn and Balenciaga spring/summer 2022 featured trousers "that draped from the hip to the toe, wrapping around the sole of the shoe, creating a line of tension down the leg. . . just like Palmer Harding's in 2011," Diet Prada wrote on Instagram. "Even the way the fullness is halted in the centre to create a smoother crotch area looks the same. Not to mention the head-to-toe monochrome and allover pleating effect." Whether or not Quinn was inspired by Palmer Harding or Balenciaga is a tough call, since fashion is not an island but a cyclical system that feeds on collaboration, remixing, and mutual inspiration. But one thing's for sure, the similarities and the celebrity line-up definitely had people talking — a lot.
Image Sources: Chet Lo and Fashion East