Line of Duty: Who Is DCI Jo Davidson Related To?
Line of Duty: Jo Davidson's Family History is Finally Revealed After 6 Episodes
Watch out! This post contains spoilers.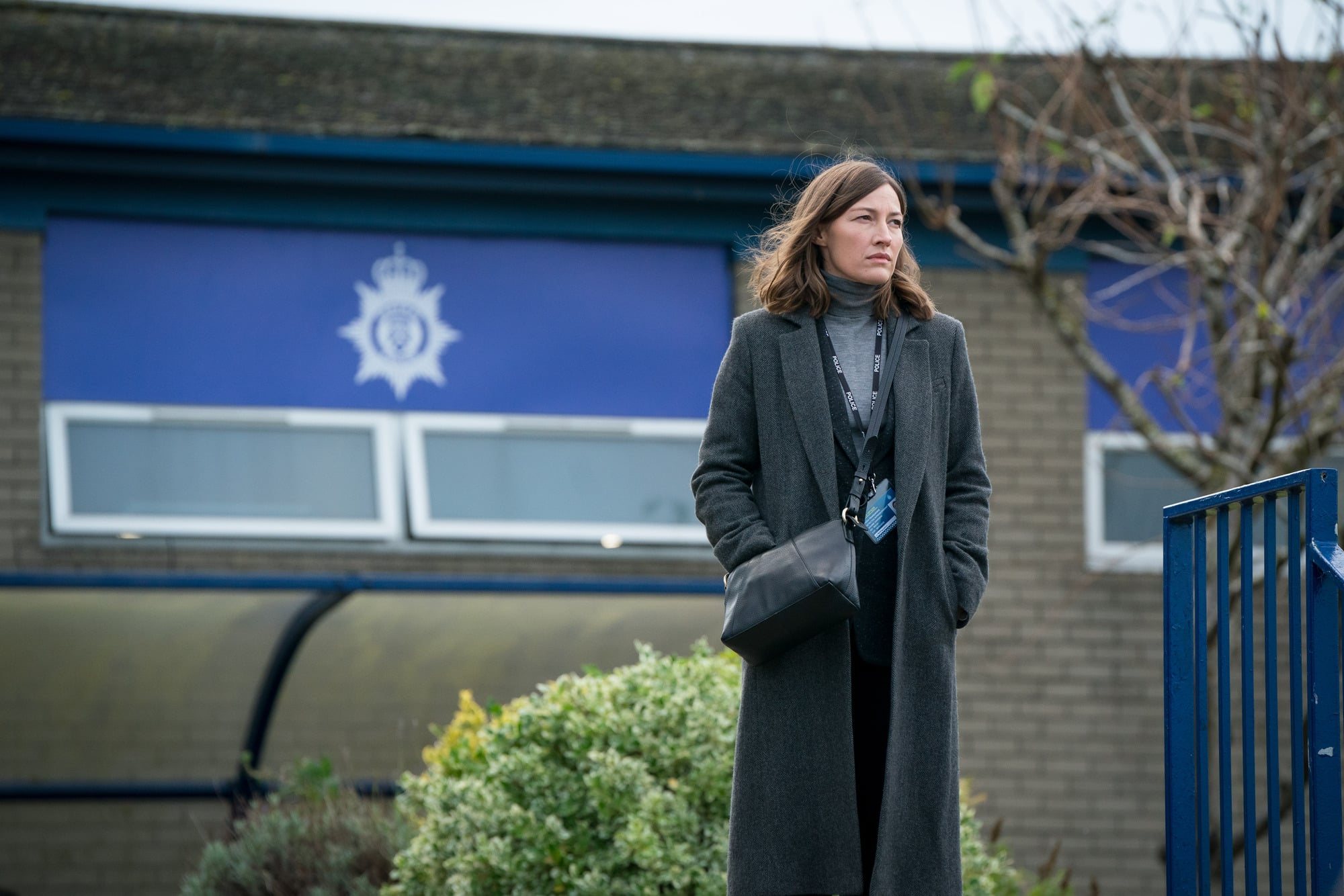 For the first half of series six, the theory of who DCI Jo Davidson (Kelly Macdonald) is related to on Line of Duty has been just that — fan theories making their way through Twitter and Reddit; the work of amateur sleuths whose clue-hunting skills rival that of our favourite AC-12 officers. The thing is, this time around one of those theories surrounding DCI Davidson's blood relative turned out to be true, and the identity was revealed in the beginning of episode five.
A little background: we learnt in the very first episode of series six that Davidson seems to have little-to-no family, and whatever family members she does have, the relationship is strained. "I don't have any family", Jo yelled at PC Farida Jatri's during their last argument as Jo packs her bags and moves out of Farida's flat. However, that statement isn't entirely true. Just minutes later, we see Jo back in her own flat, staring at a photo of a girl and an older woman. She then angrily throws her wine glass of white wine at said photo. It was this photo that kicked off the initial fan theories around Davidson's family history; and the theory that gained the most traction was that Davidson shared the same mum as John Corbett (Stephen Graham), and that Superintendent Ted Hastings (Adrian Dunbar) was her father. However, it turns out the truth was much simpler than that.
After AC-12 conducted an in-depth search of PC Farida Jatri's flat for DNA samples, it was not only revealed that Jo Davidson had, in fact, been at Farida's flat (which we as viewers already knew and AC-12 believed to be true), but it also revealed that Davidson's DNA would match someone else they had in their files, someone we had met before in past seasons of Line of Duty.
So who is Jo Davidson related to? In episode 5 it's revealed that she's blood relatives with Tommy Hunter (Brian McCardie), the former leader of the OCG (Organised Crime Group) whom we first met in season one. In addition to having DS Steve Arnott (Martin Compston) tortured (you know, that time a very young Ryan Pilkington tried to remove Arnott's fingers with bolt cutters), we also learn that Hunter was the one who helped groom Matthew "Dot" Cottan (Craig Parkinson) and get him embedded into the police force as a corrupt officer. In season two, Hunter was in witness protection, which he entered in exchange for his co-operation with police enquiries, but was swiftly murdered by the OCG whilst in hospital — an ambush orchestrated by none other than his protégé Doc Cottan. We then hear Hunter's name again in season three when it's also revealed that Hunter was involved in a sexual abuse case at Sands View boys' home, thanks to a list compiled by Danny Waldron.
In episode 6, we finally learn the details of exactly how Davidson is related to Hunter. For her entire life, Jo believed Tommy Hunter to be her uncle — the brother of her mum Samantha Davidson (Davidson being their mother's maiden name). However, the DNA samples analysed by AC-12 samples pointed to "runs of homozygosity", which indicated that Jo's biological parents were related and that she was born of an incestuous relationship. That means that Tommy Hunter was both Jo's uncle and her father.
Jo only becomes aware of this knowledge when AC-12 reveals the information to her during their interrogation after the death of Ryan Pilkington. Her mother had told her she had been raped and forced to go through with the pregnancy, sent away to Glasgow by Tommy and told to change her surname to Davidson. According to Jo, she didn't see her uncle until she was 15, when he learnt she was doing well in school and sought her out in order to groom her to join the police force as a fixer for the OCG. It was Hunter's reappearance in Jo's life that caused her mum Susan to die by suicide, unable to deal with the reality that Hunter would be controlling her daughter's life.
Whilst we now have answers to who DCI Davidson is related to and how she became mixed up with the OCG, in typical Line of Duty, we're now also presented with a new question: who did Jo think her father was all these years? She admitted to DI Kate Fleming that he was a "bent police officer", which could potentially point to retired (and bent) police officer DCI Marcus Thurwell (James Nesbitt). Will we get an answer in next week's season finale? I guess we'll have to wait and see.
Image Source: BBC Pictures