Boxing Day's Aml Ameen on Black Representation Interview
Director Aml Ameen Says Boxing Day Will "Show Black People in Spaces of Opulence"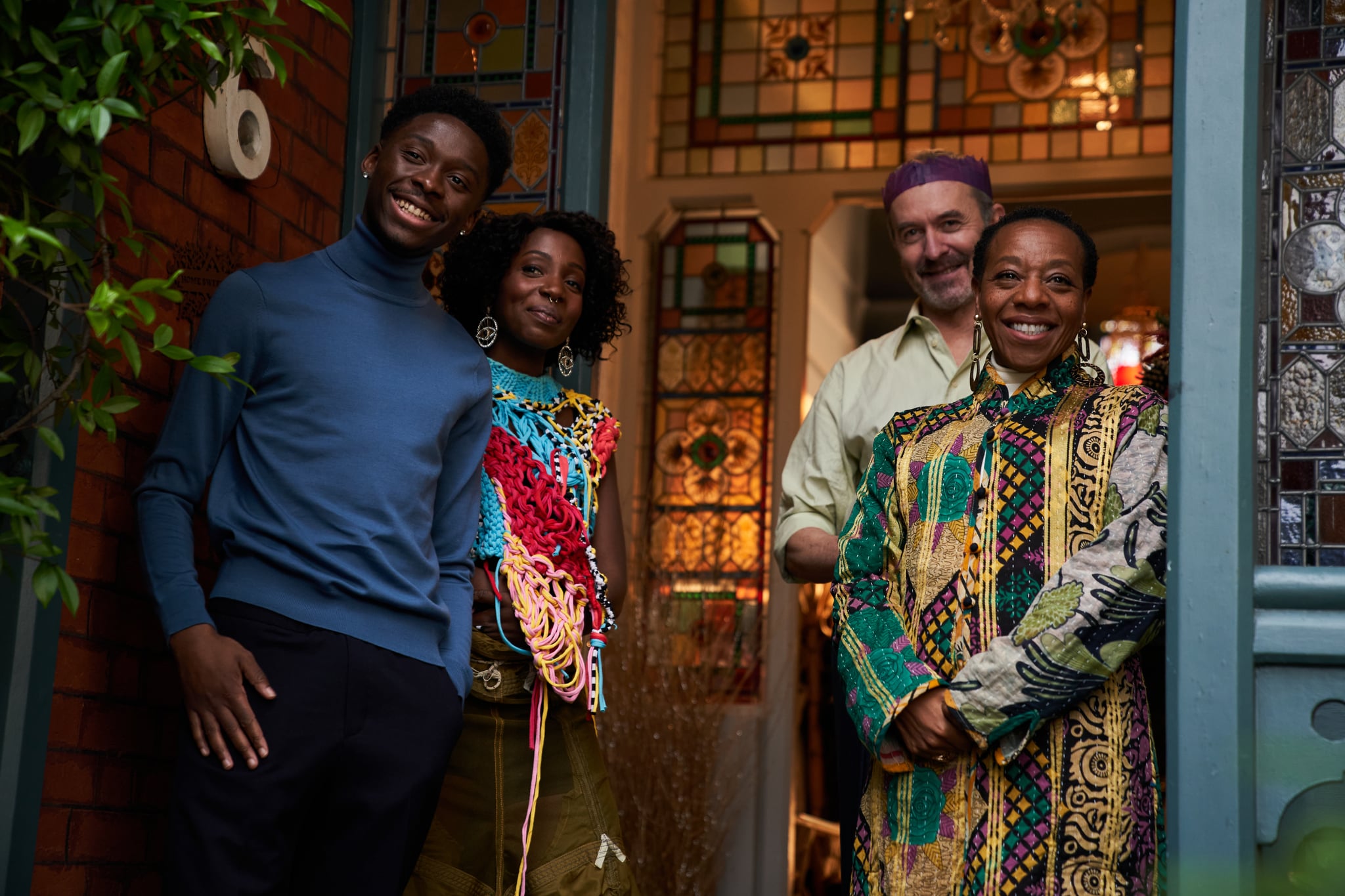 The world needs more examples of Black joy. Black stars are constantly asked about the current state of the world and what can be done to make things better. What they don't get the opportunity to do is to showcase their family values, their intimate traditions, or the ways in which they love one another. This festive season, director Aml Ameen is out to change that. The actor, best known for his roles in Kidulthood and Yardie, has directed his first film, called Boxing Day, and it's all about a Black family celebrating the festive season. The film stars Little Mix member Leigh-Anne Pinnock, presenter Zeze Millz, and Aja Naomi King, and is set to be released this December. We caught up with Ameen to discuss his directing debut, the importance of showcasing Black joy, and what it was like to work with someone like Pinnock.
POPSUGAR: Boxing Day has been in the works for a while now. What can you tell us about it?
Aml Ameen: This film comes from the diary of my life, and it's a film that I've been thinking about for a long time. In the Ameen family and on Boxing Day, we'd have these big parties every year. One day in 2016, I was at my family party and I thought, 'This is so dope that this should be a movie.' Every year, it's a big raucous event, everybody's friends come over and it's just an amazing day in our family. That's what spawned the idea many years ago.
After [the film] Yardie, I really got to focus on what I wanted to do next. I'm a writer-director, I've written a bunch of feature films and I've written TV shows, so I thought 'what can I do that comes from a really personal and honest place?' Nothing's more personal and important to me than my family, and so I decided to write a film that comes from that space and a film that felt honest and, in places, a little bit exposing to my life. I led with my heart and led with some of my family experiences and reshaped it to be Boxing Day.
PS: Boxing Day is the UK's first Christmas film that features an all-Black main cast, right?
AA: What's unique about the film is that it's actually probably the first all Black film or film with a Black British cast that exists in cinema history that steps outside of the one or two genres that we've been really good at doing. That's a first. But [the casting] was really coming from the heart first and coming from my family life first, and that's what I led with. What was also important to me was to show Black people in spaces of opulence and spaces that you and I, as Londoners, we see it all the time, we see everybody everywhere, but it wasn't necessarily reflected in the cinema. Seeing Black people in the first class lounge or being picked up by a nice car, just so that we're just adding to the narrative of who we are. Media plays such an important role in society's perspective on ourselves that to just have one version of it, it can be quite damaging. I wanted to lightly address that but within the zeitgeist of a romcom genre.
PS: That's incredible. How does it feel to be able to do that?
AA: It felt amazing to me as an actor, especially because every British thing I've done [in the past] has had a degree of trauma and pain in it. We're amazing at doing that in the UK, but we've also been amazing at this [romcom] genre that's been untapped for a modern audience — that Richard Curtis signified wonderfully in the early 2000s in writing. So that felt important to me, because having that one isolating story, it can be damaging. Also, the film was just so fun to make! My God, we had a party for four weeks, basically . . .
PS: Having watched the trailer, it certainly seems like a party! What can we expect to hear from the soundtrack?
AA: The soundtrack is something I'm most proud of. Anybody that knows me or follows me on Instagram knows that I have a very eclectic taste for music, which comes from my mother. I can go from anything from Chet Baker to the Teletubbies. For the five or six weeks it took to make this film, I was the DJ on set, and a lot of the music that I was playing ended up in the movie. A lot of the film was about having a good time with family, so I would play the classics. I'd throw on a little Little Mix to tease Leigh-Anne [Pinnock], and we'd have a ball. It was fun.
PS: Speaking of Leigh-Anne, the film features some pretty special guests. What was it like to work with Leigh-Anne and Zeze Millz?
AA: I've known Zeze for a long time on and off, and I told her, 'Zeze, you're blowing up. You're going to have your own show, man. You got to have your own show.' Zeze has now got her own show, and if you go on her Instagram, when we were shooting it, we'd call it the Zeze Millz Show, and it was like manifestation of that [actually happening]. She's got such an interesting place in British pop culture right now, which I love.
"Media plays such an important role in society's perspective on ourselves that to just have one version of it, it can be quite damaging. I wanted to lightly address that but within the zeitgeist of a romcom genre."
Leigh-Anne Pinnock was incredible to work with, because she's a hardworking artist. She really went to school again and learnt a new craft that she didn't know previously. She had some kind of understanding of [acting] — because when you're performing there's a degree of acting to that — but beyond that, she really honed in on her craft. She was very much influenced by watching incredible actors like Aja Naomi King and Marianne Jean-Baptiste and Tamara Lawrance, these incredible actresses that I believe just through a kind of osmosis influenced her so well, and it was amazing for me to work with them all.
PS: Finally, what do you hope people watching the film will take away from it?
AA: I think for me, the joy of family, the joy of that time of year, and the fact that, yes, it's the first all Black cast, but mostly that these themes of family, love, tribulation, multigenerational heartache, or discovery, they're so universal to us all. That's why we loved Crazy Rich Asians, that's why we loved My Big Fat Greek Wedding, and that's why we loved Love Actually. The themes are so universal. I created a film for everybody to enjoy, and so that's what I would love people to take away.
Boxing Day lands in cinemas on 3 Dec. 2021.
Image Source: Boxing Day