The Mandalorian: Season 2 Boba Fett Postcredits Scene
The Mandalorian: Can We Discuss Boba Fett and Fennec's Badass Postcredits Scene?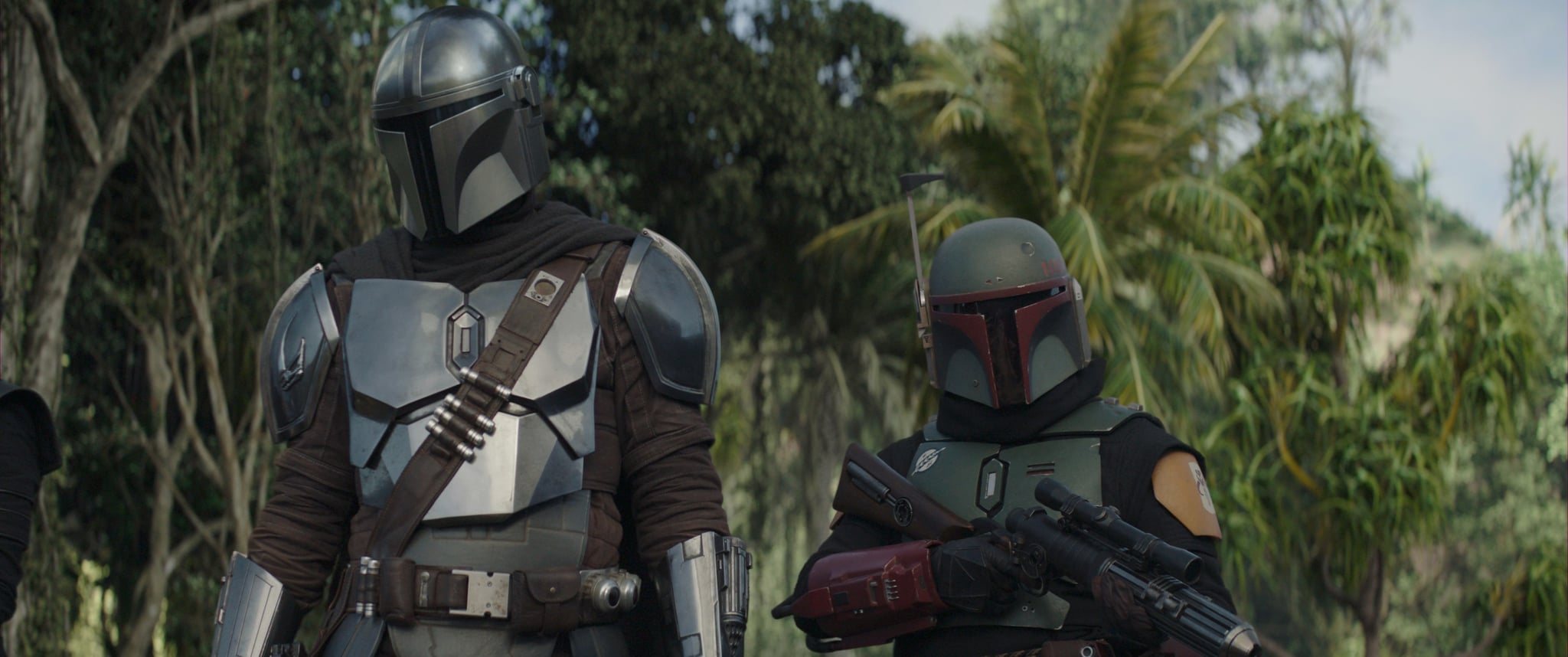 A lot went down in the season two finale of The Mandalorian, but it's what happened after the credits rolled that is really sparking some attention! Aptly titled "The Rescue," the final episode of the season followed Mando and company's battle to rescue Baby Yoda from Moff Gideon's dark clutches. The helmeted Mandalorian teamed up with Boba Fett, Bo-Katan, Koska Reeves, Cara Dune, and Fennec Shand, and although the team is able to save the Child, he bids goodbye to his pseudo father to be taught the ways of the Force by a young Luke Skywalker. Mando leaves with Bo-Katan and Koska to help in their quest to retake Mandalore, Cara takes Moff Gideon, and Boba heads out with Fennec. But that isn't the end of Boba and Fennec's adventures!
For viewers who keep watching after the credits sequence rolls by, a bonus scene brings us back to Tatooine. Not only is the desert planet the home of Luke Skywalker, but it also houses Jabba the Hutt's Palace, which is pretty significant for one of our Mandalorian heroes. The Palace guards are taken out one by one by a mysterious figure before we see Fennec and Boba enter Jabba's throne room to take out all the goons inside. Residing on the throne is Bib Fortuna (with Matthew Wood taking over Michael Carter's role from Return of the Jedi), who's been ruling in Jabba's place. Bib only has enough time to mention that he heard rumours that the bounty hunter was still alive before Boba shoots him dead and takes his place on the throne with Fennec by his side. Talk about an act of swift revenge!
As fans may recall, Boba seemingly met his end in Return of the Jedi after the rescue of Han Solo. Before Disney acquired Star Wars, the series of "Expanded Universe" novels (now known as an alternate continuity called Legends) revealed that Boba did escape from the Sarlacc pit and survived for decades. But how!?
Luckily, it seems like we might be getting more information! The ending scene leads to the announcement card for yet another Star Wars series premiering on Disney+, The Book of Boba Fett. The series will be hitting the streamer in December 2021, so hopefully, it'll explain what exactly happened to Boba after he fell into that Sarlacc pit!