Beautiful World, Where Are You by Sally Rooney Review
Sally Rooney's New Novel Makes a Compelling Case For Humanity, Love, and Email
As POPSUGAR editors, we independently select and write about stuff we love and think you'll like too. If you buy a product we have recommended, we may receive affiliate commission, which in turn supports our work.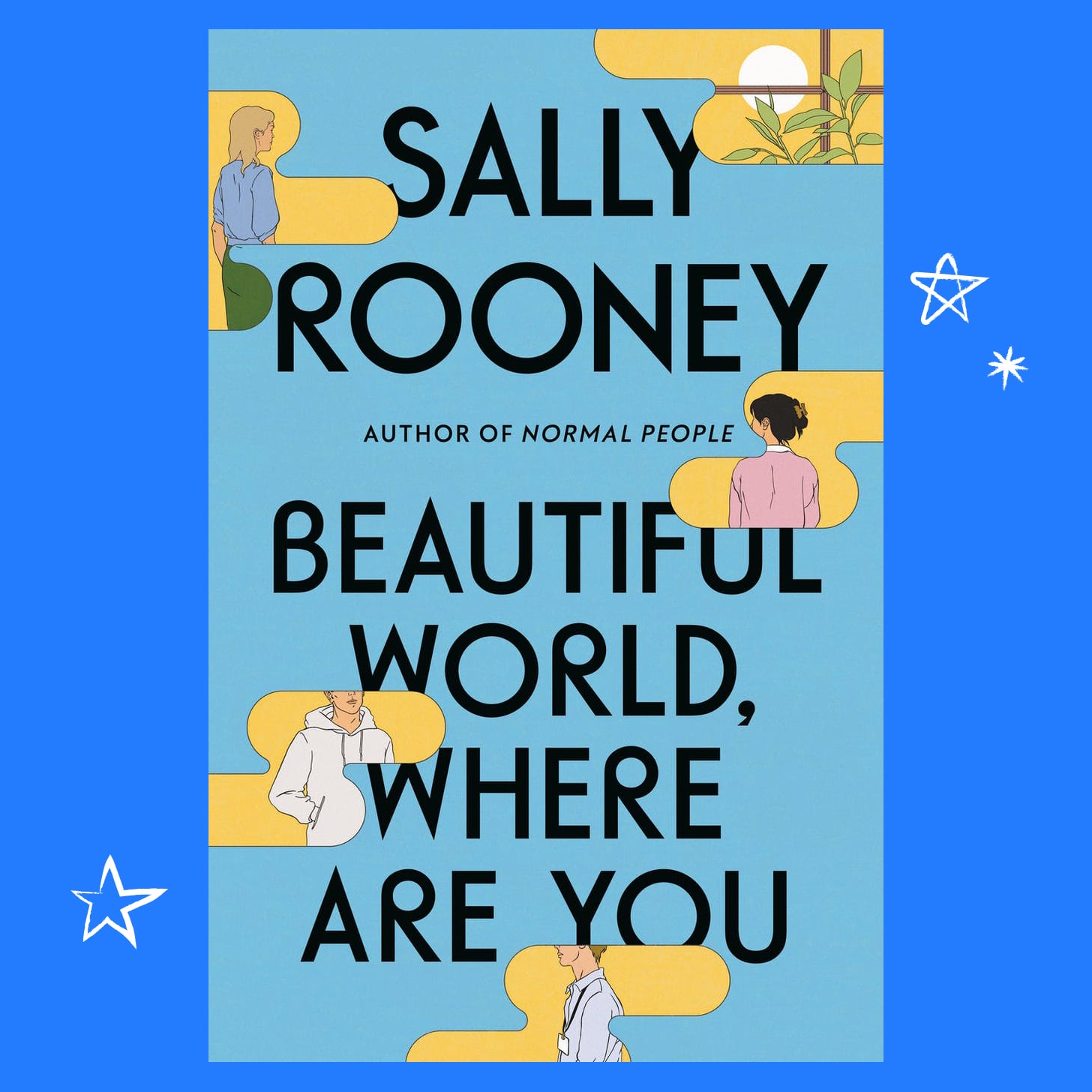 Much like Sally Rooney's first two books — Conversations With Friends and Normal People — Beautiful World, Where Are You (out 7 Sept.) traces the relationships of young Irish people muddling their way through perfectly fixable communication breakdowns. This is not to say Beautiful World, Where Are You is exactly like its predecessors, though. In this story, the subjects are satisfyingly adult. Their worries about the world — and their sexual escapades — are decidedly adult, too.
Beautiful World, Where Are You opens with Alice, a blunt spoken and successful author (and seeming proxy for Sally Rooney). We meet up with her after a stay in a psychiatric ward, spurred by an overwhelming book publicity. She's just relocated to a quiet Irish coastal town to recover, when she fires up a dating app and meets mercurial warehouse worker Felix. Alice's two closest friends — quietly personable and beautiful former college roommate Eileen and the stoic, good natured Simon — worry about her being all alone out there, far away from them in Dublin. But those two have quite a bit to sort out themselves. Eileen and Simon's confusing, highly charged, will-they-won't-they dynamic has been building since Eileen was a young teenager and Simon a young adult. After years of flirtation and resistance, their relationship is finally coming to a head.
Rooney's biggest ideas are tucked into wide-ranging, intellectual yet warm emails traded back and forth between Eileen and Alice. Unpacking shared anxieties about climate change, religion, abandonment, the book industry, and, of course, love, Alice ends each letter with a plea for Eileen to come visit. The book's climactic scenes take place when this much-anticipated visit to Alice's stunning new home finally happens, with Simon tagging along and Alice's precarious new relationship with Felix on full display for the first time. With all four characters packed under one roof, drama unfolds as each one is forced to confront their own insecurities and fears about losing each other.
In Beautiful World, Where Are You (£15), Rooney proves she's still unnervingly adept at picking out the tiny ways humans try and fail to hide our vulnerabilities. The way a close friendship conducted mainly over revealing, long-distance missives can feel shy and angsty in-person; how a small, polite deflection mid-conversation can be used to hide a well of loneliness.
This book delves deep into themes of capitalism (specifically as it relates to art) and the author's very real fear of humanity's imminent downfall. All of that might sound decidedly unsexy, but I assure you, there is loads of heat in these pages, too. And no fumbling scenes of sex between timid virgins; this is sex between experienced adults with specific fantasies to fulfil.
Some might argue that Rooney's themes of young Irish love and friendship in Beautiful World, Where Are You are repetitive of her earlier works. But in the end, Rooney argues, what else matters? I wholeheartedly agree. As Rooney sees it, humankind's relentless obsession with love and friendship is "the very reason I root for us to survive — because we are so stupid about each other."
Standout Quote
"Maybe we're just born to love and worry about the people we know, and to go on loving and worrying even when there are more important things we should be doing. And if that means the human species is going to die out, isn't it in a way a nice reason to die out, the nicest reason you can imagine? Because when we should have been reorganising the distribution of the world's resources and transitioning collectively to a sustainable economic model, we were worrying about sex and friendship instead. Because we loved each other too much and found each other too interesting. And I love that about humanity, and in fact it's the very reason I root for us to survive—because we are so stupid about each other."
Read This If You Like . . .
Either of Sally Rooney's previous books (Conversations With Friends and Normal People) or the Netflix show Friends From College.
A book set somewhere you'd like to visit in 2021 (Ireland)
A book by an author who shares your zodiac sign (Pisces)
A book you think your best friend would like
A book where the main character works at your current or dream job (author)