Watch Adele Get Surprised by Her Teacher on Her ITV Special
Adele Was Turned Into a Puddle of Emotion on Stage When Surprised by Former Teacher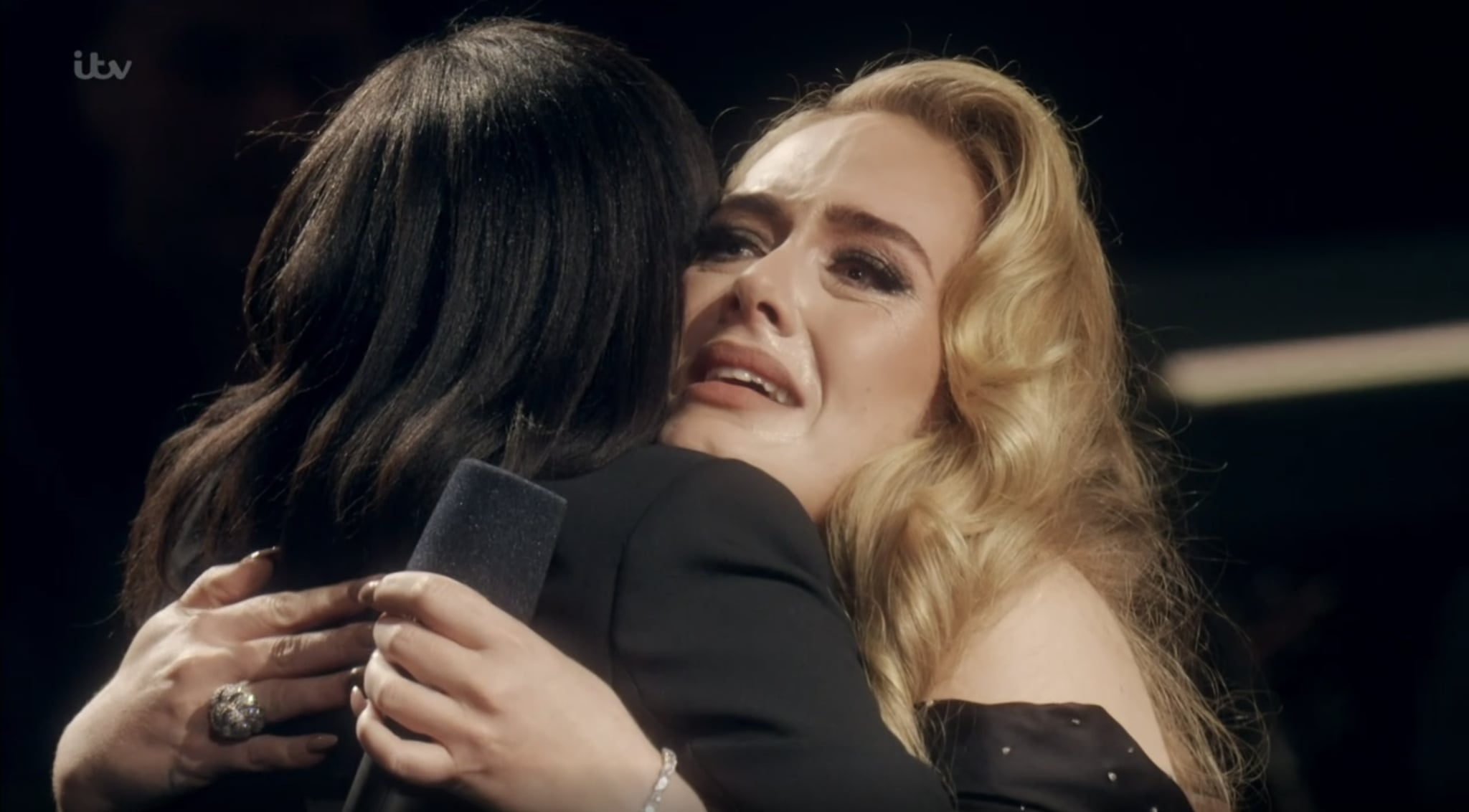 While performing her new album, 30, on stage at the London Palladium during the ITV special An Audience With Adele on Sunday night, Adele was asked a series of questions from A-listers between songs. Some were funny and others earnest, but it was the question from Emma Thompson that left Adele, and the entire nation, sobbing on their sofas.
"When you were younger, was there anyone who inspired you, protected you from all the trials and tribulations of the world?" asked Emma. Adele didn't need to think too long about it, answering that it was her primary school teacher Ms McDonald who inspired her most. "Ms McDonald taught English, but she also taught street dancing," said Adele. "She was so bloody cool, engaging, and she really made us care — and made us feel like she really cared."
In case that wasn't enough to leave us with damp faces, she went on to explain that Ms McDonald "was so likeable and relatable, and actually made me like her." The next thing we knew, Ms McDonald was making her way up on stage and turning Adele into a puddle of emotion.
After a brief chat on stage, where Adele asked Ms McDonald how she was and whether she has children (she does and, of course, they were also in the audience), Adele called out to her mum to see who was up on stage with her, in perhaps the most relatable moment of the night. The sweet interaction ended quickly, with Ms McDonald telling Adele how proud of her she is, and Adele asking if she could get her number before rushing off stage to have her face fixed.
The moment was diffused quickly, with Adele hilariously leaving her long-time friend Alan Carr to man the stage and have his turn at belting out one of her hits.
We all have that one teacher who changed our life… such a beautiful reunion! ❤️

*PS, would totally buy Alan Carr's version of 'Make You Feel My Love* 🤣@Adele #AnAudienceWithAdele https://t.co/2ZZI2RS0mI pic.twitter.com/hlTOOZKt5j

— ITV (@ITV) November 21, 2021