Chloe Burrows on Leaving Love Island and Working With JD
Chloe Burrows Talks Life After Love Island, Her JD Partnership, and Being Work Pals With Anthony Joshua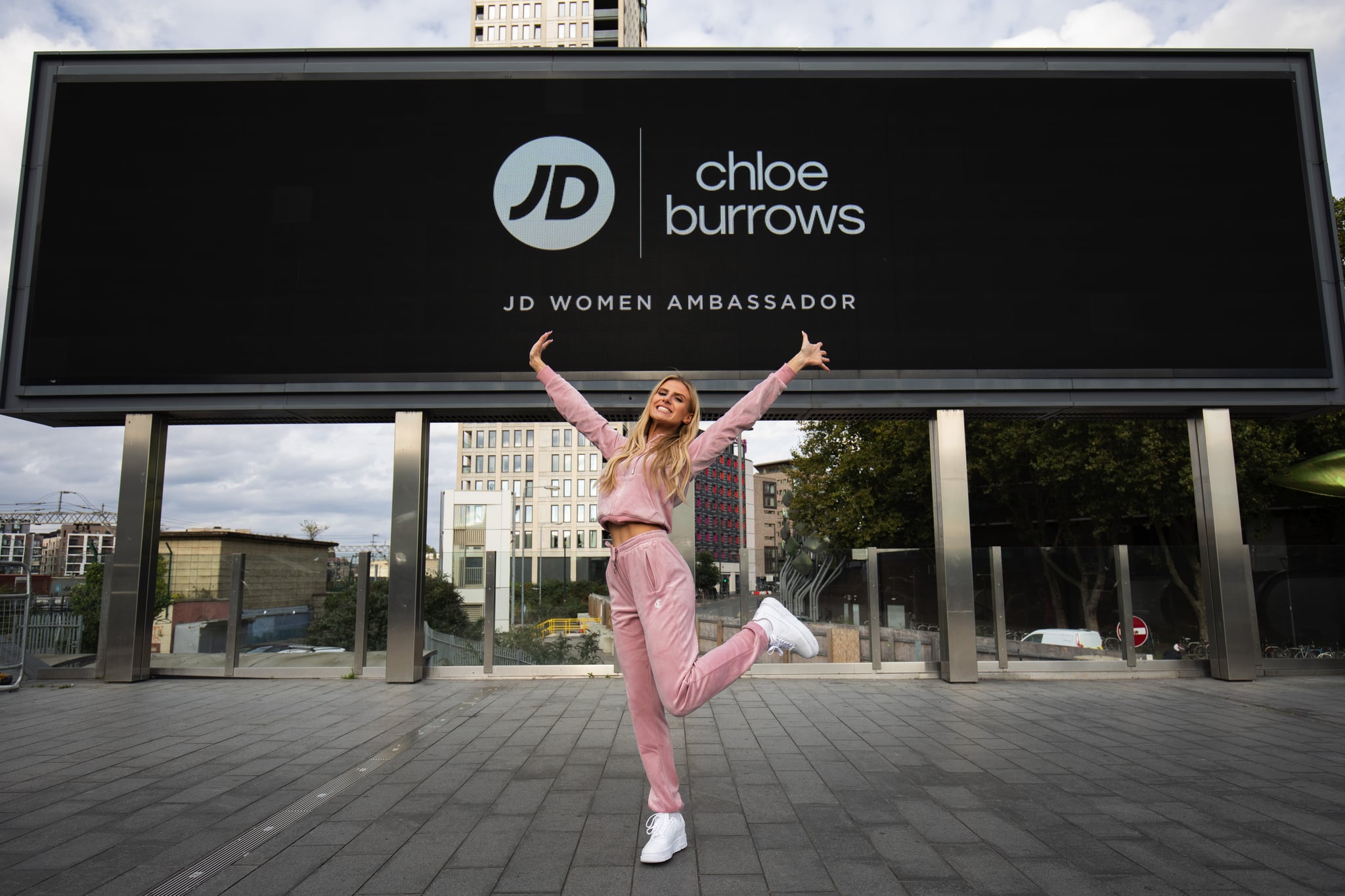 Love Island's Chloe Burrows had quite the divisive fanbase on Twitter at first, but by the end of series 7, it was clear that "Chloby" was here to stay — and that Burrows is absolutely hilarious. Whether it was her "No Whey" catchphrase, her glam makeup looks, or her reactions to Toby's many partners, she definitely stole the hearts of viewers in more ways than one. Since leaving the villa, she's signed a major deal with sports retailer JD, and we caught up with her to find out more about life after Love Island and her shiny new partnership.
POPSUGAR: How has life changed for you since leaving Love Island?
Chloe Burrows: Every aspect of my life has changed. I'm certainly not doing Monday to Friday, 9-to-5 anymore! Even little things [have changed]. I remember when I used to go out and post stories, and no one would reply, and now, I'll put a picture up, and then everyone's responding saying, "clean your laptop". Everyone looks at every little thing — my life is definitely not the same since Love Island.
PS: Everyone on Twitter became real Chloe stans by the end of the series. What was that response like for you, coming out of the villa?
CB: I didn't expect it at all. I feel like, coming out, it was really surreal, especially seeing it go mad on Twitter. When I was in there, I had no idea what the public sentiment was. I look at the beginning, and I kind of knew I wasn't really liked, and then toward the end, I was just grateful that I was still there, still having the time of my life. To come out and see "Chloby" all over Twitter was the coolest thing. I use Twitter all the time, so it's been a good way to judge people's [reactions], because people are brutal on Twitter.
PS: What did you think when watching the show back for yourself?
CB: I didn't really have a lot of time [to watch], and also, my attention span has always been awful anyways. It is a big series to commit to. I've watched the funny bits, like the baby challenge. I think it's funny. Watching it back, I felt exactly the same. I did actually watch where I got mugged off, and I was like, "Toby what the hell?" I got annoyed at him again, but no, it's fine. Watching it back, it's funny, because obviously we were there like 24/7 — I don't even know what you have seen and haven't seen, so the bits that I have seen I really remember vividly. They're as funny if not funnier watching it back. One thing I didn't realise though is how I speak. Everyone gets onto me about how I speak. I didn't realise I don't pronounce words. It's just like one big sound, so yeah, that's one thing I was surprised about.
PS: Everyone loved it by the end! How are things going with Toby at the moment? Have you seen much of each other?
CB: Yeah, they're going really well. I was with him yesterday. I see him as much as I can, but his schedule is hectic and me working with JD, it's really hard to find time and just to chill, but we chill as much as we can. Also when we're together, all we want to do is lay down. I feel like all we've done is spent all summer on the daybeds, and now, that's all we do.
PS: Do you still keep in touch with the rest of the islanders?
CB: Everyone you saw me being close with on the show is who I'm close with on the outside. Millie and Lucinda, we're like the naughty trio. We speak all day everyday, and we have a WhatsApp group called the "naughty trio". It pops off — it's actually going off as we speak, talking about Lucinda's birthday plans. Liam, Tyler, Kaz, Lib, everyone who it looked like I was close to, I've kept in touch with. There's a huge WhatsApp group that everyone speaks on and everyone speaks on Instagram here and there.
PS: Now, you're working with JD as their first full-time female ambassador — what's that like?
CB: Can you actually believe that? That is so mad. Back in summer, I was just in a random garden in Majorca, and now, I'm the full-time women's ambassador. It literally doesn't seem real — I feel like nothing has sunk with me yet. Coming out, it was like a whirlwind, so I'm starting to see really cool things. I went to JD, and then I went to an Anthony Joshua fight, and then I went to Dubai. It's all surreal. I don't think I've had enough time to sit down and be like, "Yeah, I'm the first female women ambassador".
PS: Speaking of Anthony Joshua, you working with JD means you're basically colleagues now, right?
CB: I can't wait to have a lunch break with Anthony Joshua. It's surreal. Imagine telling me back in May, "you're going to be working with the same brand as Anthony Joshua". I would've laughed in your face, there's no way I would have ever believed it. Even now, I don't believe it. I reacted to a video that you sent, and he actually said my name — I was like, does anyone know how cool this is?
PS: And obviously you chose JD for a reason. How important was it for you to work with a brand that really aligns with your values and feels like you?
CB: I think that was really important, because I felt like I'm more about personality and vibe, so I wanted a brand that kind of embodied more of that. I've shopped at JD since I was a kid. I would go monthly to get fresh Air Force ones. But then also, everything else that JD is doing with music and culture and their events, I felt like it was such a better fit for me as opposed to any other brands. I think it just made sense.
PS: Finally, what are your future plans?
CB: I feel like I want to try and do everything, and JD has the opportunity for me to try and do as much as I can. I've got my YouTube and the JD YouTube channel. They've got a new dating show that I watched the other day, and then there's podcasts. I don't want to give too much away — I feel like I've given away a lot. Everything that you can imagine is coming, so don't worry about that.
Image Source: JD