Rihanna and Lupita Nyong'o Netflix Movie Details
Rihanna and Lupita Nyong'o Will Actually Costar in a Buddy Movie Together, God Is Real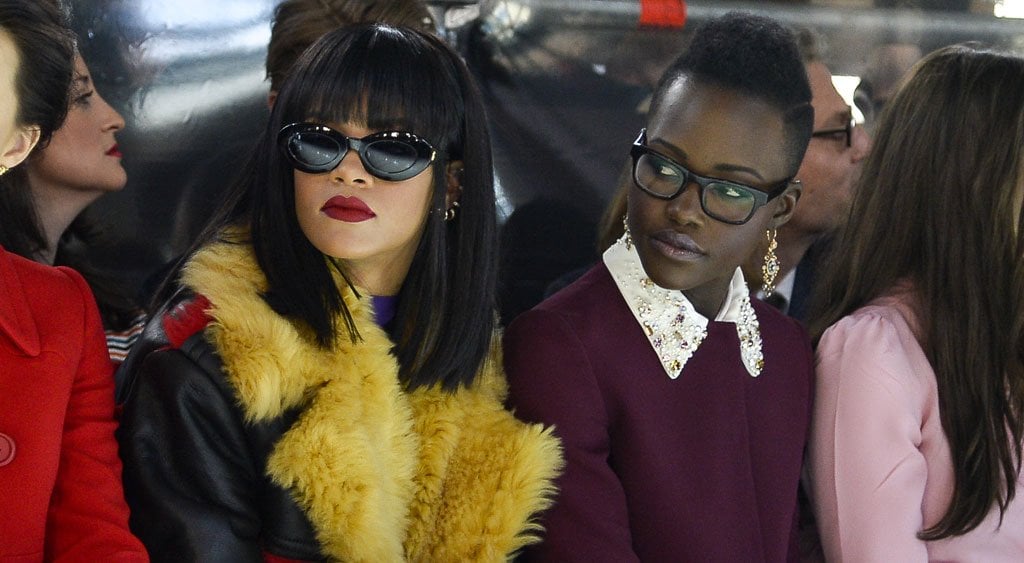 If you need a quick break from 2017 beating the sh*t out of you with bad news, then you'll be happy to know that the amazing buddy movie costarring Rihanna and Lupita Nyong'o that Twitter dreamed up in April is becoming a reality. According to Entertainment Weekly, a recent "dramatic negotiation session" at the Cannes Film Festival ended in Netflix nabbing the rights to the film project with the two stars attached. Selma's Ava DuVernay will reportedly direct and Insecure's Issa Rae is in talks to write the screenplay.
*pauses to find a paper bag to hyperventilate into*
Apparently Netflix had to toss out a "very aggressive bid" to beat out the rest of the suitors, which makes a lot of sense, honestly. Can you imagine a more iconic pairing than Rihanna and Lupita? (If your answer was anything other than a resounding "HELL NO," then kindly exit out of this article.) The idea began when Twitter user 1800SADGAL reacted to the photo above by quipping, "Rihanna looks like she scams rich white men and Lupita is the computer smart best friend that helps plan the scans." It was a plan Twitter was more than happy to get behind, and they brought it to the attention of Nyong'o, who later tweeted:
I'm down if you are @rihanna https://t.co/vwHBWeCbFZ

— Lupita Nyong'o (@Lupita_Nyongo) April 21, 2017
Naturally Rih-Rih agreed . . .
I'm in Pit'z https://t.co/Kz0o3lBEmL

— Rihanna (@rihanna) April 23, 2017
Which resulted in fans roping DuVernay in . . .
Lights set. Camera's up. Ready to call action for these #queens. 👑 pic.twitter.com/NVgqpFeTnu

— Ava DuVernay (@ava) April 24, 2017
And finally, the icing on the cake: getting Rae to write . . .
April 23, 2017
Although there's no word on whether or not the story will actually be about the duo pulling off Joanne the Scammer-level heists, EW's sources say Rae is already hard at work on the script and that production will likely start in 2018. God bless us, every one.