Saint Jane Beauty Launches at Cult Beauty in the UK
Saint Jane Beauty, the Luxury CBD Skin-Care Brand, Has Finally Arrived in the UK at Cult Beauty
As POPSUGAR editors, we independently select and write about stuff we love and think you'll like too. If you buy a product we have recommended, we may receive affiliate commission, which in turn supports our work.
It's been called the (old) Celine of CBD beauty. It's gained celebrity fans like Naomi Watts and Maya Rudolph. It boasts one of the top-rated vitamin C serums on Sephora in the US. And starting in July, luxury CBD brand Saint Jane Beauty is finally available in the UK via an exclusive partnership with Cult Beauty.
Saint Jane Beauty launched in the US in 2019 and is the brainchild of Casey Georgeson, whose background is in creating wine for The Wine Group (an American beverage company) and beauty products for Sephora, like Marc Jacobs Beauty, Sephora by OPI, Disney for Sephora, and Mary-Kate and Ashley Olsen's Elizabeth and James range. The brand specialises in skin care and makeup that contains full-spectrum CBD, meaning it contains CBD and other minor cannabinoids except for THC (if it contained THC, then it would be called broad-spectrum CBD). Georgeson also wanted the brand to be "clean" — which to her meant it contains no iffy ingredients — a fact that made it fairly easy to bring Saint Jane overseas. Whilst no one would describe the rigorous EU registration process for beauty brands as easy or particularly enjoyable, Georgeson was more than happy to go through with it. "I appreciate it because it's in line with how we think about our brand and how we're very meticulously clean at every step of the way," she told POPSUGAR.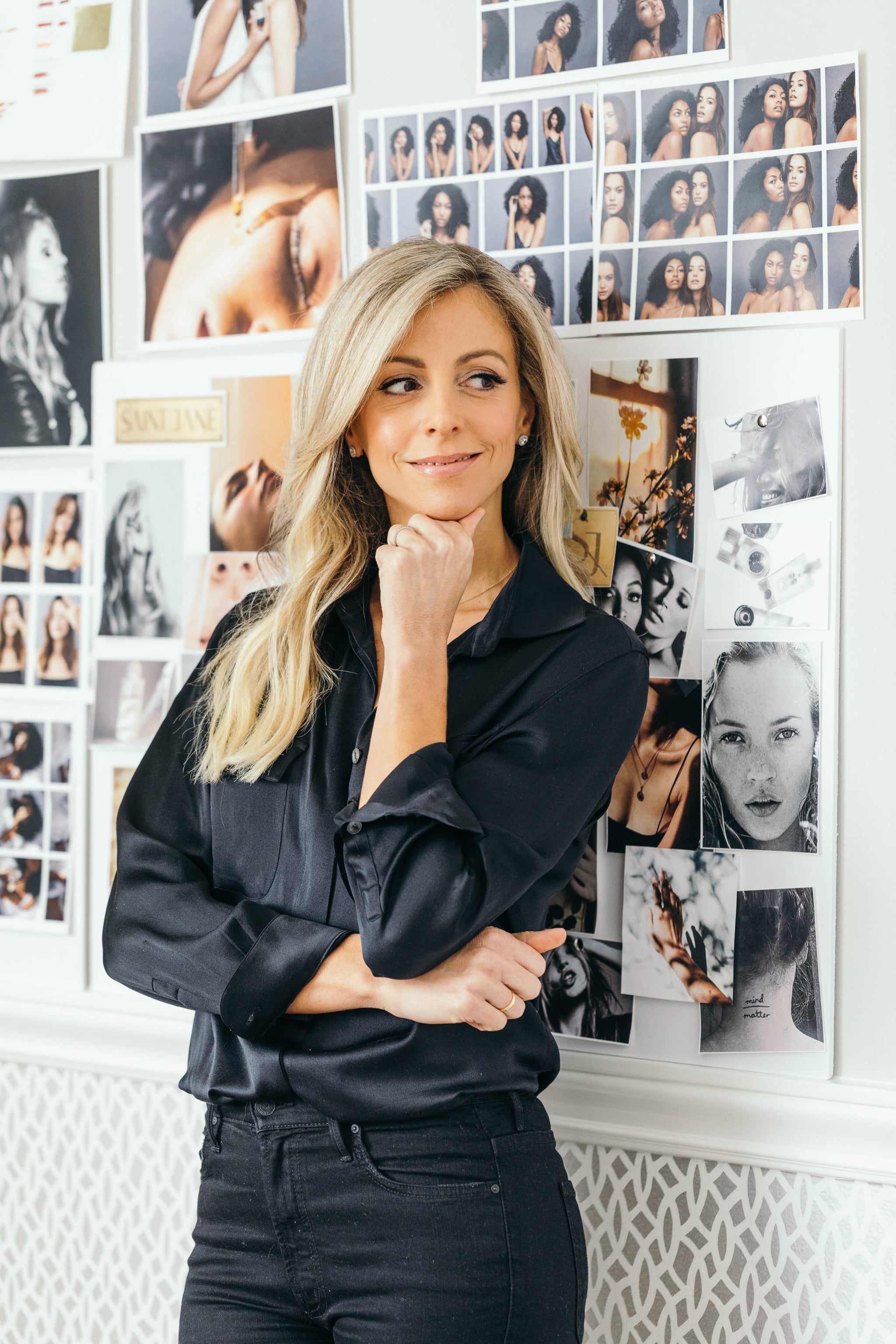 Image Source: Saint Jane Beauty
Georgeson's main goal with Saint Jane Beauty was to provide people with products that heal the skin, a goal reflected in the name of the brand. "It's an homage to the actual Saint Jane de Chantal who lived in the 1500s. She dedicated her life to healing women and specifically women that society shunned — the very old, the very sick, the unwed mothers — and it's really in her honour that we've created this extremely healing-centric approach to beauty and to skin care," Georgeson explained. "All of our formulas are incredibly potent with high concentrations of clean active ingredients that really get to the core of skin issues."
The brand's star product is the Luxury Beauty Serum (£100), which is infused with 500mg of CBD per bottle and has gained legions of fans in the US — including celebs, beauty editors, and Sephora customers — for its ability to soothe stressed skin. The serum is made with 20 ingredients that were all chosen for their ability to reduce inflammation in the skin, including sea buckthorn, rosehip, and calendula, as well as grapeseed oil and CBD, of course. And whilst those ingredients are great for any skin type, they're especially lovely for those dealing with any sort of skin condition. "People who have eczema and psoriasis and rosacea, and who have been on prescription medications forever, use Luxury Beauty Serum because it really gets to the core of those skin issues," Georgeson said.
Since it launched Luxury Beauty Serum in 2019, Saint Jane has introduced an eye cream, a body serum, and lipsticks and lip glosses. But it's the brand's newest product, The C-Drops, that has given it another runaway bestseller, thanks to a formula that's supremely gentle yet seriously hard-working.
"The vitamin C has actually been encapsulated in glycerin, which makes it really gentle for the skin and helps it absorb deeply," Georgeson explained. "So people who normally can't use vitamin C products, who really want to use a CE Ferulic or something but can't because their skin gets too sensitive, our C-Drops are a great option. They're ideal for sensitive skin, but you still get the efficacy of the 20 percent vitamin C." Apply the Luxury Beauty Serum after the C-Drops, and Georgeson promises you'll look like you just had a HydraFacial at a skin-care clinic. "It gives your skin that glassy, glowy finish," she said. Luckily for us, whilst the cosmetics aren't making their way to the UK quite yet, the vitamin C serum most certainly is.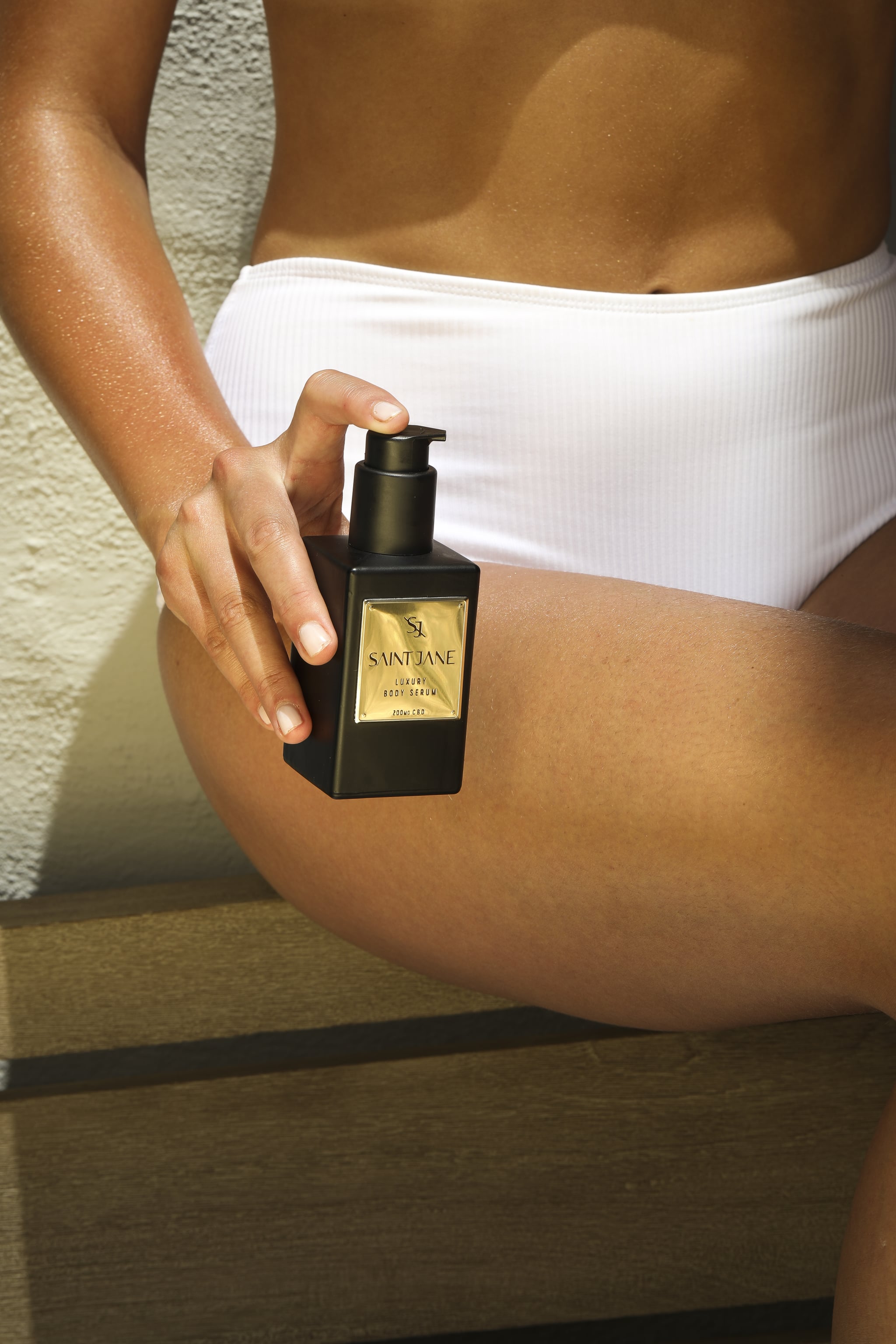 Image Source: Saint Jane Beauty
The brand doesn't honour Saint Jane in name only. Following in Jane Frances de Chantal's footsteps, the brand donates to several charitable organisations in the States that "help foster change, inspire hope, and call for equality and inclusivity". Those groups include The Loveland Foundation, Color of Change, Lipstick Angels, Girls Crushing It!, Humble Bloom, and National Bail Out, the latter of which is a Black-led and Black-centred collective that, amongst other things, helps end systems of pretrial detention and supports ongoing bail reform in America. With a disproportionate amount of Black people arrested and jailed for marijuana-related crimes in the States, I'm happy to see a luxury brand that is profiting off the booming CBD beauty industry supporting an organisation like National Bail Out. There is still a long way to go to end the hypocrisy between the mass incarceration of Black and brown people due to marijuana use and the multimillion-pound CBD wellness and beauty market that is mainly created by and catered to white people, but actions like this are one small step.
To start off its UK and European debut, the brand has introduced three products at Cult Beauty — the Luxury Beauty Serum, the C-Drops, and the Luxury Beauty Serum — with plans to slowly introduce more in the coming months. Keep reading to shop them all.