Tower 28 Beauty Arrives in the UK at Cult Beauty
Tower 28 Beauty, the LA-Based Makeup Brand for Sensitive Skin, Has Finally Arrived in the UK
As POPSUGAR editors, we independently select and write about stuff we love and think you'll like too. POPSUGAR has affiliate and advertising partnerships so we get revenue from sharing this content and from your purchase.
With a heatwave in full effect, Tower 28 Beauty couldn't have arrived in the UK at a better time. From the lightweight, swipe-and-go formulas to the simple-yet-colourful packaging, the LA-based makeup brand — which since launching in 2019 has gained big-name fans including makeup artists Katie Jane Hughes and Jillian Dempsey and celebs like Kate Bosworth — is an ode to laid-back California living. You can practically feel the warmth of the sun on your face as you open up the brand's Bronzino Illuminating Cream Bronzer. Blend it over your cheeks and across the bridge of your nose and you'll look like you just spent a day at the beach, too.
"Tower 28 is actually named after a real lifeguard tower that's at the intersection of Santa Monica and Venice. If you know Venice, you know it's a bit grungy and hippy, whereas Santa Monica is full of families and big strollers, and I've just always loved that it's this place where you see every kind of person enjoying the beach," founder Amy Liu told POPSUGAR in anticipation of the brand's UK debut at Cult Beauty. "I've always felt that a beach is a place where everybody gets to enjoy a healthy lifestyle, but as an Asian American who was born in America, and who grew up in America at a time when beach culture was super popular, I just never saw myself in it. So I wanted to take the love that I have of being a local, and depict it in a way that was true to what I see and what my experience was like."
Tower 28 Beauty isn't the first brand to be inspired by the beach, and it won't be the last. What makes this brand stand out is its foolproof formulations — cream-based bronzers, blushes, and luminisers that you can simply tap on with your fingers, tinted lip oils you can swipe and go without the aid of a mirror — and the fact those formulations are also nontoxic and safe for sensitive skin, even for those with skin conditions like eczema, something Liu has dealt with all her life.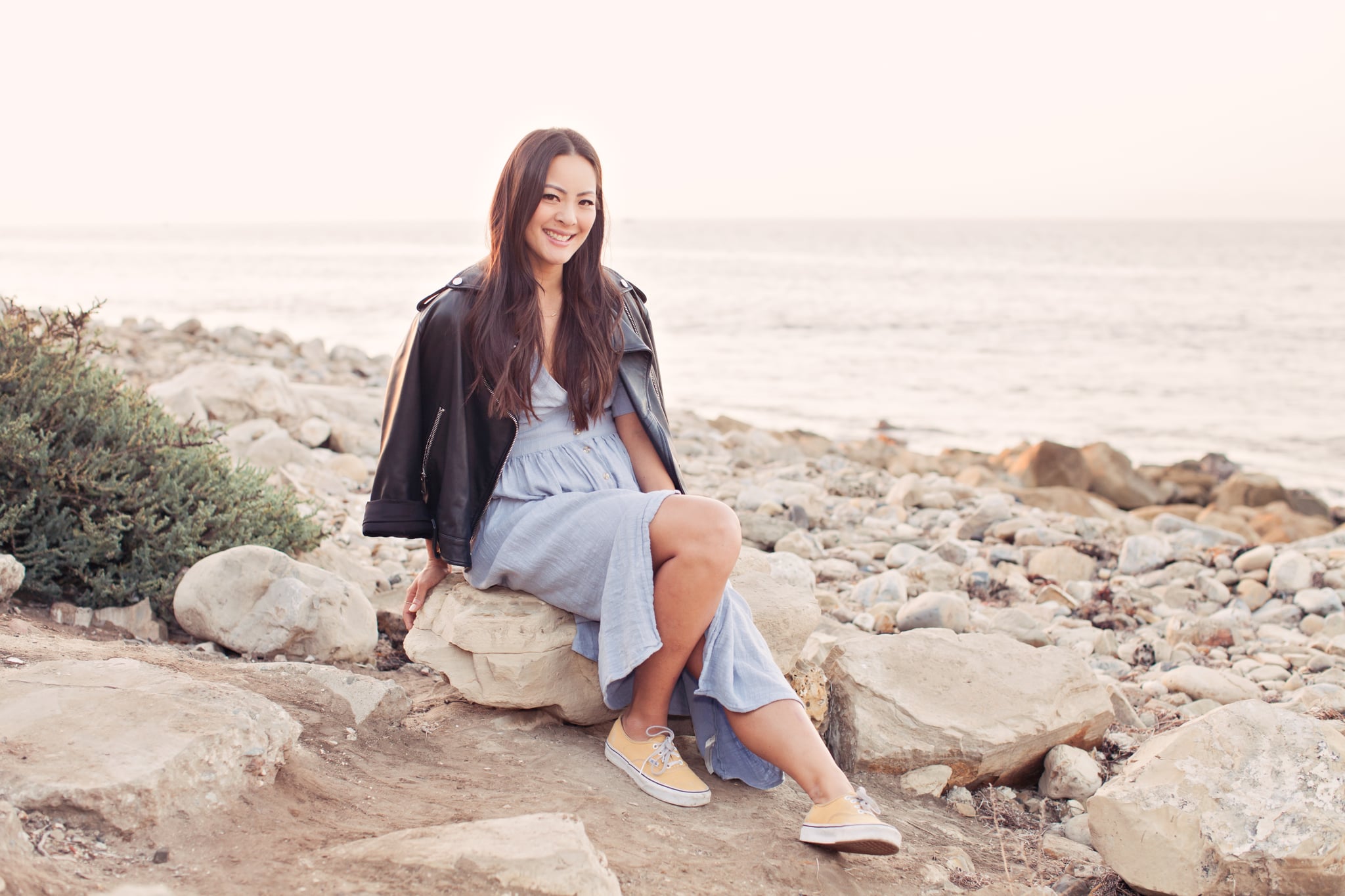 Image Source: Courtesy of Amy Liu
Working in the beauty industry at brands like Josie Maran, Smashbox, and Kate Somerville, Liu was self-conscious of her eczema flare-ups and tried everything to not only combat the condition, but also to cover it up. "I wanted to be able to use makeup but I was also so worried about making my skin worse," she said. "When your skin is damaged, you have this guilty feeling when using products because you're like, listen, I want it to be better, but at the same time, am I the one who's making it worse because I keep putting more stuff on?"
"The real 'aha!' moment for me was like, what if I can make products that are not only safe for sensitive skin, but are also clean and more accessibly priced." — Amy Liu
It was this dilemma that set Liu on a mission to find makeup that was safe for sensitive skin. But as she searched, she constantly found herself finding products that contained ingredients she wasn't happy about, on both the natural and chemical sides of the INCI-list spectrum. And when she did find a product she was happy with, they usually came with an exorbitant price tag. "The real 'aha!' moment for me was like, what if I can make products that are not only safe for sensitive skin, but are also clean and more accessibly priced."
To ensure her products were truly safe for sensitive skin types, Liu wanted to get a stamp of approval from the National Eczema Association in the US, making Tower 28 Beauty the only makeup brand to meet the organisation's strict guidelines. "That was something important to me because I personally had been using them as a resource and found them really credible," she said. With lack of strong federal regulations in America surrounding the ingredients used in beauty products, Liu also formulated all of her products according to the Credo Clean Beauty Standards (the US beauty retailer has a strict list of over 2,700 specific ingredients and types of ingredients that they prohibit to be sold in their stores), and California's Prop 65 (which "requires businesses to provide warnings to Californians about significant exposures to chemicals that cause cancer, birth defects or other reproductive harm;" the list of chemicals is updated regularly and contains about 900 toxins and carcinogens on it).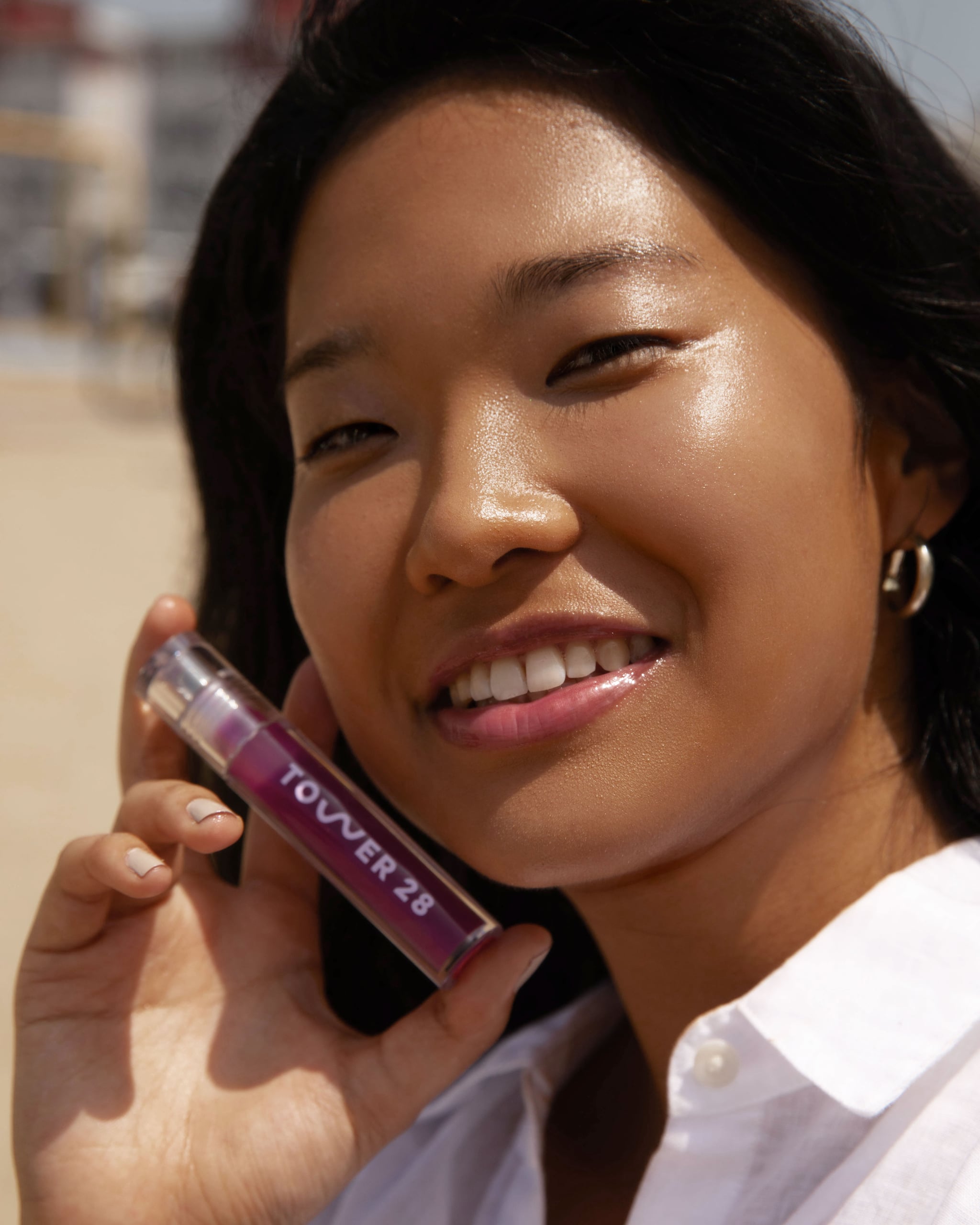 Image Source: Tower 28 Beauty
Liu's lifelong experience dealing with eczema is also the reason all of the base products are cream formulas. "Powder can sometimes exacerbate any type of texture [on the skin], for example if you have any imperfections, or if like me you get flaky skin patches on your face," Liu explained. Just because they're creamy and easy-to-use doesn't mean they don't have serious staying power, though. Part of what makes Tower 28's cream-based Bronzino bronzer or BeachPlease cheek and lip tint so popular, especially amongst makeup artists, is that they're super pigmented. And whilst Liu laughs that it's not great for sales (the compacts last you forever), it means the formulas stay put throughout the day and work on a wide variety of skin tones.
To keep the cost down, and to ensure she was keeping sustainability front of mind, Liu kept Tower 28's packaging pared down, using clear compacts and tubes that come decorated with the brand's groovy '70s-style logo. "I just thought that I could make these products at a more accessible price point and still not make any sacrifices on performance, because a lot of the costs are in packaging. A lot of it is in the extra bells and whistles," she explained. There are no mirrors, no proprietary compact shapes, no extra pans, no paper inserts, and no extra space inside the boxes. The brand's shipping boxes are already made from 98 percent+ recycled paper and recyclable padded mailers, and starting in summer 2021, the brand will transition all of its plastic product packaging in PCR (recycled plastic), and Liu has lofty goal of 100% carbon neutrality by the end of the year.
What I think is truly unique about Tower 28 Beauty is how it's become so widely beloved by both amateur and professional beauty lovers alike, which was actually Liu's goal from the outset. "I wanted [the brand] to be something that I could give to my friends who were celebrity makeup artists, but I also wanted it to be easy enough to use for someone who doesn't have any tools and just wants to throw it on in a pinch." With products that are high quality, easy to apply, and gentle on the skin, it's not hard to see the appeal. The fact it will help bring some bright, sunny California vibes to our rainy UK shores is just an added bonus.
Tower 28 Beauty launches at Cult Beauty on 18 June. Keep reading to learn about all of the products in the range.