Nars Radiant Creamy Color Corrector Review With Photos
Nars's New Colour Corrector Ditches Pastel Pigment For an Innovative Formula That Works on All Skin Tones
As POPSUGAR editors, we independently select and write about stuff we love and think you'll like too. If you buy a product we have recommended, we may receive affiliate commission, which in turn supports our work.
Colour correcting is an established technique that has circulated the beauty industry for years. Recently, though, the skin-enhancing technique has experienced a revival. Used by makeup artists and beauty influencers alike, colour correcting helps to minimise discolouration, hyperpigmentation, and dark circles that are visible on the skin to create a more seamless complexion.
Enter Nars Cosmetics, a brand known for its amazing complexion products and that has spent years developing and perfecting the Radiant Creamy Color Correctors (£24), created to be the perfect partner to the brand's bestselling Radiant Creamy Concealer. Formulated with white water lily to soothe the skin and spiderling flower extract to brighten up the complexion, Nars lead makeup artist Rachel Hardie shared with POPSUGAR, "It feels completely traceless on the skin and sits beautifully underneath any concealer without altering the finish. Fine lines will appear smoother, and the texture of the skin will appear plump. It is great for pinpointing areas of concern, brightening up discolouration from the sun, undereye circles, and stubborn marks from blemishes."
Traditional colour-correcting products have typically involved an array of pastel colours like blue and lilac that work by neutralising contrasting tones in the skin. For example, a green colour corrector counteracts redness, whilst a purple colour corrector works by cancelling out sallow yellow tones, which in turn helps brighten dull complexions. It's all based on colour theory — green is opposite red on the colour wheel, just as purple is opposite yellow. The problem is, not only is the colour wheel confusing, but according to Hardie, those pastel shades are often pure pigment and can leave a slight tint on the skin. So yes, your redness might be gone, but in its place might be a faint hint of green left behind that interferes with your foundation and concealer.
It's for these reasons that Nars didn't want to rely on pastel tones for the Radiant Creamy Colour Corrector to get the job done. With a unique custom blend, each of the four colour-correcting shades — light, medium, medium deep, and deep — is infused with red pigment that neutralises any blue- or purple-toned imperfections, immediately concealing redness, dark undereye circles, or hyperpigmentation. Having the "natural tones mixed in allows the Radiant Colour Corrector to blend seamlessly with the skin, while the red undertone will counteract problem areas with blue-grey, yellow-brown, and even blue-black discolourations," Hardie explained, adding that you can then use a foundation with yellow undertones, which will also naturally enhance the skin whilst knocking back any red.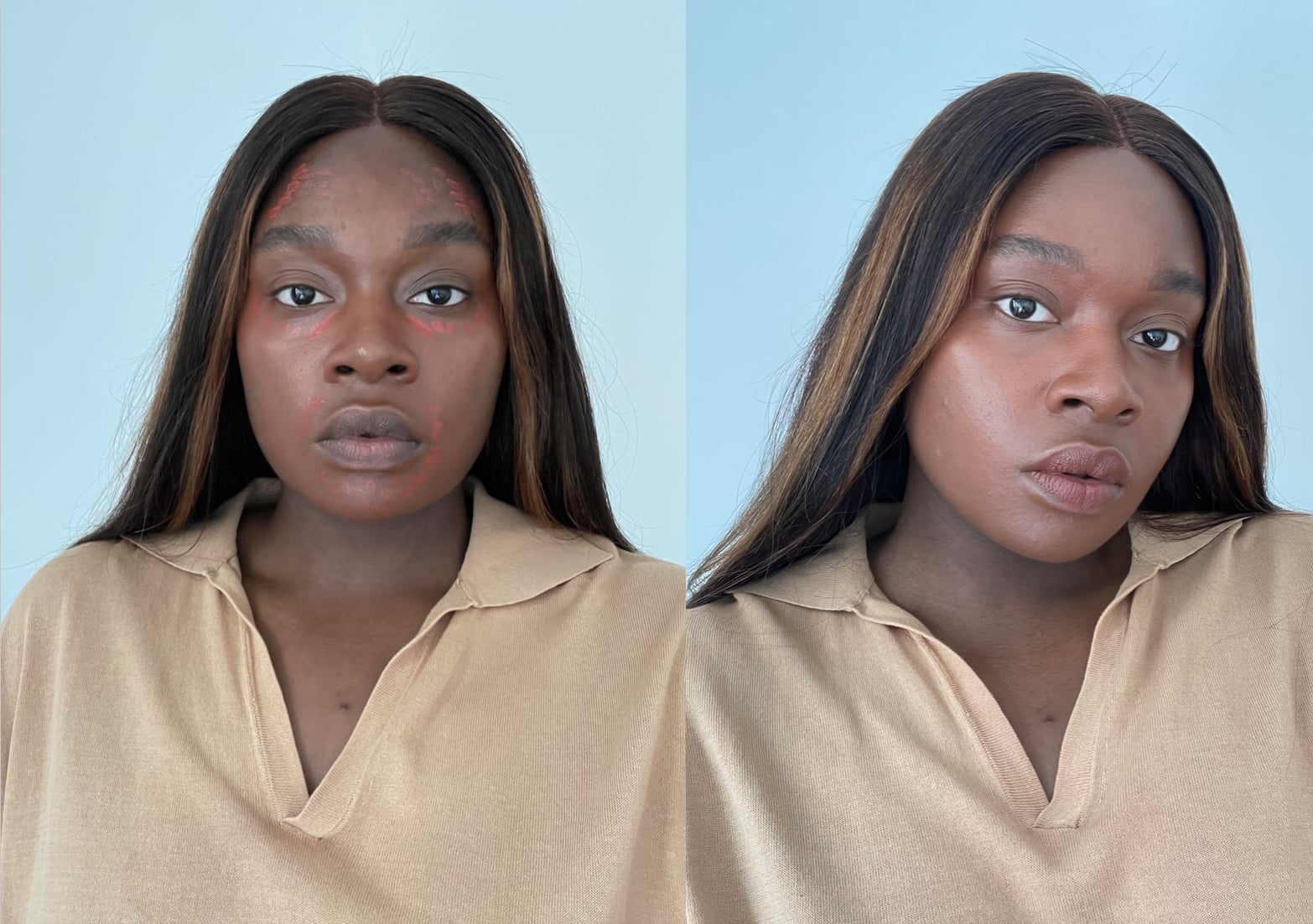 Image Source: POPSUGAR Photography / Nateisha Scott
Personally, I find that with my darker skin and hyperpigmentation, dark and dull areas arise around my mouth and chin and under my eyes, so when applying makeup, I have to increase the intensity of my brightening concealer shades to minimise the discolouration on my complexion. Putting the deep shade of the Nars Color Corrector to the test, I was blown away by the results.
The wand itself is different from the classic Creamy Concealer. The bristles are shorter and denser, allowing for a more precise application, especially under my eyes. The deep, reddish-brown tone worked immaculately at concealing the darkness around my mouth, the corners of my forehead, and under my eyes. Once blended in with the brush (although slightly crazy-looking, initially), it made for the perfect base underneath my concealer, and overall, my skin looked even and more radiant. I loved how lightweight and creamy the formula was, and unlike traditional colour correctors that I tend to find drying on the skin, it smoothed over my skin, creating the perfect canvas.
Combining both the Radiant Creamy Concealer and the Radiant Creamy Colour Corrector, the two blended perfectly together, disguising any imperfections. With its swift application, it took seconds to apply, and with the remarkable results, it's an extra step I will happily incorporate. I also found that you can use any foundation or concealer after applying the colour corrector; it works just as well, with the staying power overall unmatched. Let's just say the Nars Colour Corrector is a win in my books.
Naturally, eager as always to try to test the latest products on the market, the POPSUGAR team put the Nars Radiant Colour Corrector to the test. Keep reading to see the results.