Monika Blunder's Makeup Line Is Now Available in the UK
Makeup Artist Monika Blunder's Blunder Cover Launches in the UK This Month, and We Got a Sneak Peek
As POPSUGAR editors, we independently select and write about stuff we love and think you'll like too. POPSUGAR has affiliate and advertising partnerships so we get revenue from sharing this content and from your purchase.
When celebrity makeup artist Monika Blunder launched her first product in the US — a foundation/concealer cheekily named Blunder Cover — it caused a buzz in the beauty world. I remember longingly watching my fellow beauty editors across the pond raving about it on Instagram, their skin looking fresh and natural, as if they weren't wearing any foundation at all.
For people who prefer a more "no-makeup makeup" look, Blunder Cover is pretty much the perfect cover-up. A hybrid between a foundation and a concealer, Blunder created it because she wanted a complexion product that would be sheer enough to allow the skin's natural texture and luminosity to shine through, but pigmented and grippy enough to cover imperfections and be layered to provide more opaque coverage if necessary. Unfortunately, my dream product wasn't available in the UK when it launched last year in December 2020. But that changes with the arrival of Monika Blunder Beauty on Cult Beauty starting in June 2021.
Made in California, Born in Austria
Her product range may have first launched in the States, but Blunder — who was born in Austria and now lives in LA — always had her sights on Europe and the UK. "A lot of my followers on YouTube and social media are from Europe and I was like, if I come up with a product and it's only sold in America, it's not going to work. I need to have this product be EU compliant. And that was the best decision we've ever made," Blunder told POPSUGAR. That meant from the outset, Blunder made sure that all of her products could be sold in the UK and EU so that when it came time to bring the brand overseas — to Cult Beauty and Niche Beauty respectively — she didn't have to spend time reformulating to ensure she wasn't using one of a thousand or so ingredients banned in the EU but not in the US. It's something she plans to do moving forward as well, which means the blusher, tinted lip balm, and two new brushes she's in the process of launching for autumn will also be readily available here and in the EU.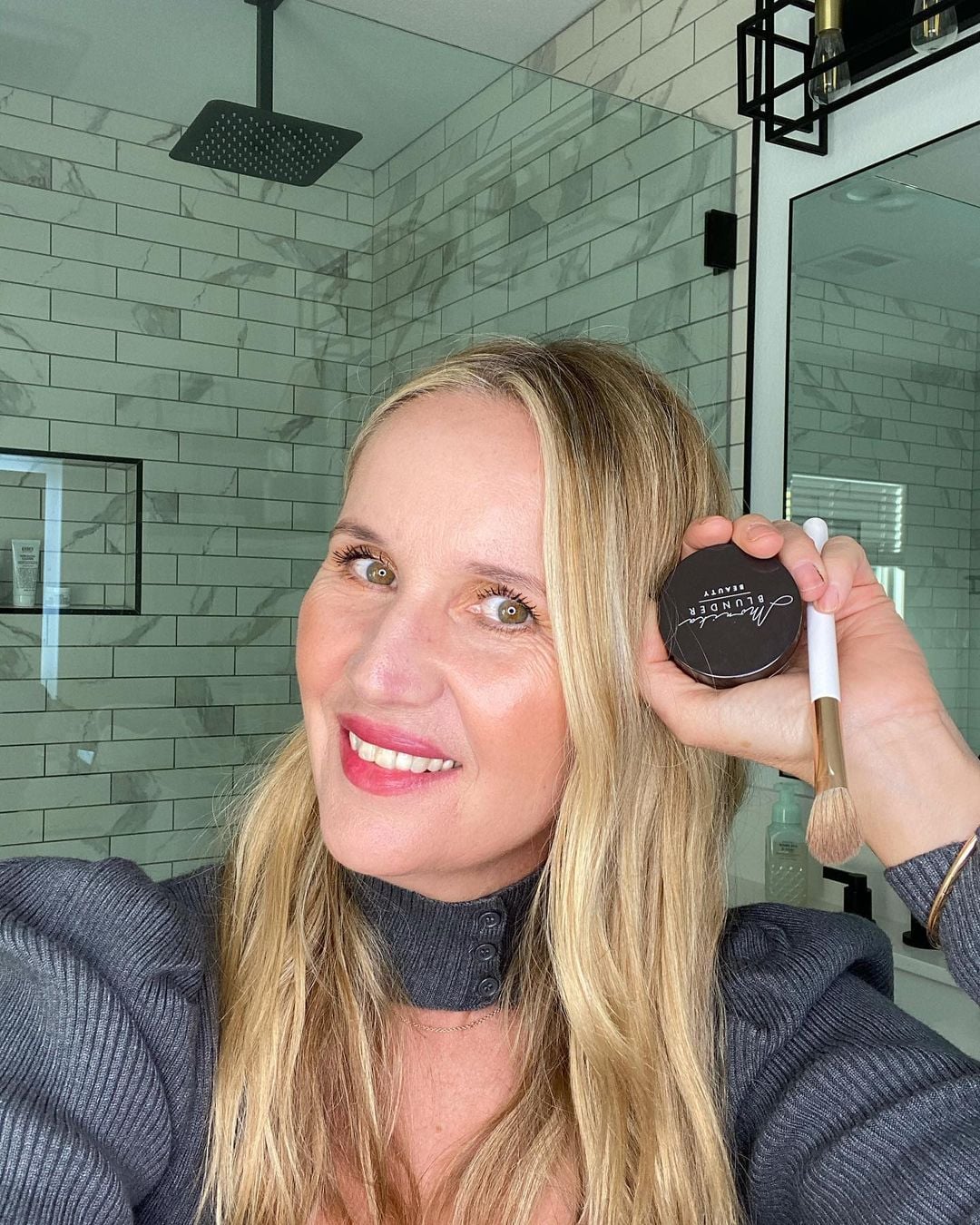 Image Source: Monika Blunder
Blunder's Austrian upbringing influenced more than just her desire to sell internationally. It inspired the product itself. Her obsession with healthy, glowing skin comes from her mother, and the other women she was surrounded by as a child. "I grew up in a very small town called Kufstein, which is in the Alps; and I grew up around women who really truly didn't wear a lot of makeup and everyone always had beautiful skin," she said.
That inclination towards minimal foundation she witnessed as a child influenced Blunder's work with her celebrity clients like Megan Fox, Gemma Chan, and Emilia Clarke, and she became known for her ability to create gorgeous, dewy-looking complexions. "I noticed that with both everyday woman and my celebrity clients, they don't love [wearing] heavy foundations," Blunder explained, adding that over the years she was always on the lookout for the perfect base product that didn't look cakey and obvious on the skin. And when she couldn't find one that met her standards — that was sheer but buildable, that was vegan, cruelty free, and that contained natural, good-for-the-skin ingredients — she decided to make her own.
Not only did Blunder know exactly what kind of product she wanted to start off with, but she also knew how she wanted it to look. "The only thing my mother ever used was an Estée Lauder product, which came in a little compact. It was creamy, and she would use it underneath her eyes and wherever she had the imperfection. So I just envisioned my product to be in either a pot or in a compact," she said, adding, "I also envisioned it to be creamy and really gentle on the skin." And when it came to the latter, Blunder knew she wanted to incorporate natural botanicals native to Austria — like edelweiss and arnica — into the formula, ingredients that her parents cultivated and utilised throughout her childhood to treat ailments like bruises, bee stings, or redness.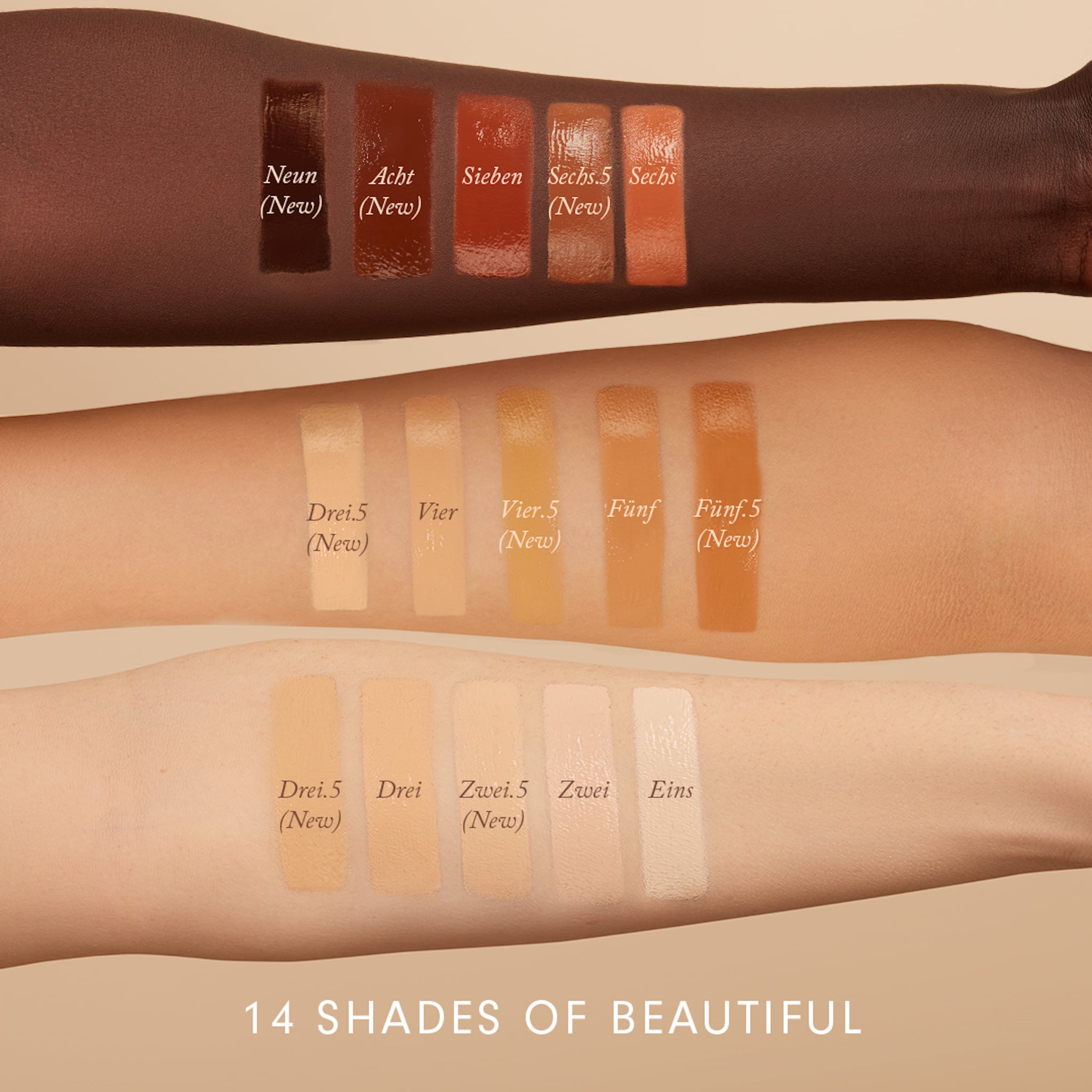 Image Source: Monika Blunder Beauty
Blunder Cover initially launched in seven shades, with seven more added in the months since it launched. By the end of 2021, she'll be tacking on another seven for a total of 21 shades. "I wanted to build this brand with my customers," Blunder said, explaining that after the initial launch she worked carefully and consciously to figure out what shades she needed to add based on both her expertise as a makeup artist and consumer feedback. "When you go through my shades, I know that they work; I know that people can use them because I've used them over the years on so many of my clients," she said.
A Review of Monika Blunder Beauty Blunder Cover
So after all of that anticipation, what is Blunder Cover actually like to use and to wear? The POPSUGAR editors and I got to give the formula a test drive before it officially launched, and whilst we vary in age, skin type, and skin tone, we were all fans.
The jar is larger than I had expected (about the size of two Jaffa Cakes stacked on top of one another), which I consider a good thing. The cream can be easily applied with your fingers or with the synthetic Hybrid Cream Brush (£30.50), which is based off of a brush that Blunder has had in her makeup kit for years. "The brush is great for buffing in Blunder Cover, but because of the shape of it you can also use it to contour," she explained. "It also works really well for any cream products, as well as for powders, so it's actually a very universal tool." I personally love using the brush because it's great for a targeted application. This isn't the type of base product you put all over your face, but rather apply onto areas where you want to even out tone or texture, which for me is basically just the T-Zone. The brush is the perfect size to hit those smaller areas, whilst the bristles truly do diffuse the pigment so there's not a streak or splotch in sight.
The cream itself is incredibly . . . for lack of a better word, creamy, but it's still easy to layer and blend. The finish is definitely on the dewy side and it feels quite hydrating, which assistant editor Kara Kia appreciated because it didn't dry out her skin, (I can imagine, however, if someone has very oily skin, they may find this makes them too shiny). Those with mature skin will definitely appreciate this formula, as it doesn't settle into fine lines. The most impressive bit about it is that because of how dewy and creamy it is, Blunder Cover does miraculously seem to mimic the texture of skin that's well-hydrated and glowing — especially in photos. Without divulging what I was wearing, I posted a selfie on Instagram. Every comment I received was about how glowy my skin looked.
If you have a spot or any sort of imperfection you want to cover up, Blunder Cover is great because all you have to do is dip your finger or a smaller brush into the pot and pat it on like a concealer. "I love this product as a concealer actually, because it doesn't crease throughout the day," said POPSUGAR associate editor Tori Crowther, who prefers to wear super lightweight tinted moisturisers or tinted SPF as her all-over base. "I normally, prefer concealers with a slightly thinner texture, but this does offer good coverage," said assistant editor Navi Ahluwalia. Kia agreed, saying that she was impressed by how it blurred out the acne scars on her cheek without it looking like cake batter.
Keep reading to shop Blunder Cover and the Hybrid Cream Brush, and to see what some of the shades look like on the POPSUGAR team.