Laura Mercier Secret Camouflage Concealer Duo Stick Review
Laura Mercier's Secret Camouflage Brighten & Correct Duo Makes Applying Concealer Faff-Free
Laura Mercier's Secret Camouflage concealer is one of the most iconic and enduring makeup products on the market. The dual-pan concealer was one of Mercier's first products when she launched the brand back in 1996, and it's been a favourite of makeup artists and beauty editors ever since for its ability to brighten and conceal in a very natural way. Unusual for the beauty world, the Secret Camouflage formula has gone unchanged for over two decades . . . until now, that is, with the launch of the Laura Mercier Secret Camouflage Concealer Brighten & Correct Duo (£28). A dual-ended concealer pen that's inspired by the original (don't worry, the OG formula isn't going anywhere), it offers the same ultra-natural-looking coverage but in a sheerer, creamier, more user-friendly way.
The Laura Mercier Secret Camouflage Concealer Brighten & Correct Duo comes in 16 shades, the lightest being 0.5N, the darkest being 6W (I found 2N to suit me best). Like the original, the Brighten & Correct Duo is a cream formula that comes with two shades: on one end of the pen, you have the "Brighten" shade that is usually paler and cooler in tone, whilst on the other side, you have the "Correct" colour, which is a touch darker and warmer. The "Brighten" side is ideal for using around the eyes to, well, brighten the area, which includes underneath the eyes, over the lids, and along the inner corners and sides of the nose. The "Correct" side, on the other hand, is great for covering up spots, redness, and any areas of hyperpigmentation.
You can also layer and mix the two shades together if you want. In fact, one of my favourite ways to use the Duo is to blend the "Brighten" shade all around my eyes — paying close attention to along the lower lash lines (where there's often redness) and the inner corners (where there are shadows) — followed by a few dots of the "Correct" shade underneath my eyes that I tap on top with my finger. I find the combination of the two really helps me look fresher and more awake.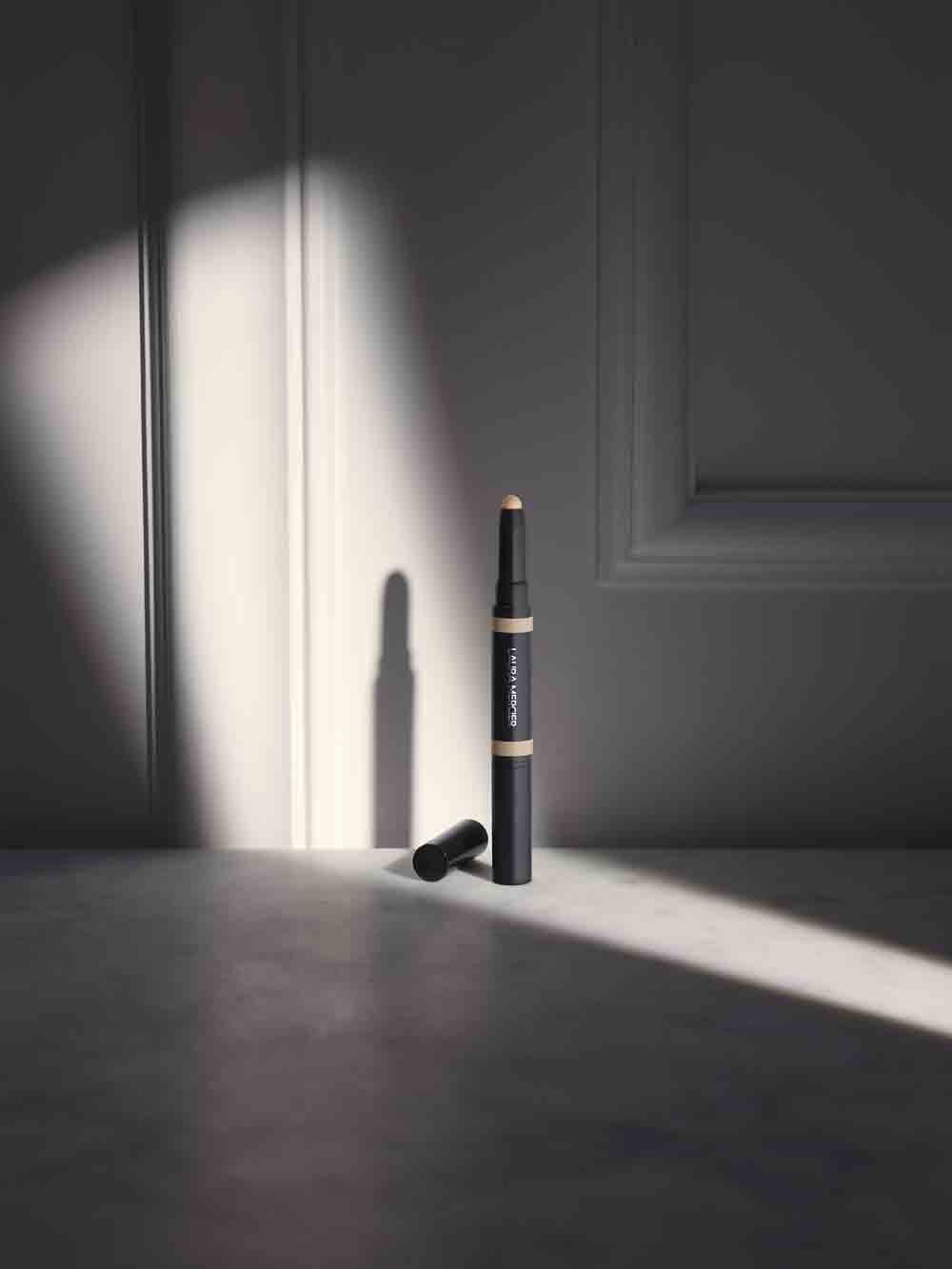 Image Source: Laura Mercier
The biggest and most noticeable difference between the Secret Camouflage Brighten & Correct Duo and the original Secret Camouflage is that instead of the cream concealers being in pans, they are in stick form and feature a small, rounded tip that makes it easy to precisely dab onto spots and to scribble the pigment wherever you want. This is great if you're someone who likes to be able to slap on your makeup and go, if you don't have a ton of makeup brushes in your kit, or if you're not the best at applying makeup in general. Whilst the original Secret Camouflage is an amazing product, it does require some work (and brushes or a sponge) to apply it, especially if you're trying to cover up a spot. With the new duo, all you need are your fingers.
Ridiculously creamy (perhaps creamier than the original), the Brighten & Correct Duo glides onto your skin without so much as a tug or a pull. It blends effortlessly and has a soft, velvety matte finish that almost looks airbrushed when it sets, which is due to the addition of "spherical blurring powders", according to the brand. I've tried a lot of concealers that claim to have a "blurring effect", but this is the first one I've tried that I could see it happening with my own eyes as I applied it.
When it comes to coverage, myself and the POPSUGAR editors who tried the formula all agreed it was medium to full. It does an amazing job covering spots, counteracting dark circles, and hiding redness, but editors with more serious dark marks wished it had a bit more opacity. You can layer this formula a lot, however, and because of how emollient and hydrating it is (it contains murumuru butter and squalane), you don't have to worry about it caking or creasing — no matter how much you put on.
All of our editors were also able to find a perfect shade match from the range, which doesn't always happen. And now that you've read our thoughts on the formula, keep reading to see what the Laura Mercier Secret Camouflage Concealer Brighten & Correct Duo (£28) looks like on four different skin tones.