Isle of Paradise's New Spray Tan Bottle Is Thanks to TikTok
Isle of Paradise's New At-Home Spray Tan Bottle Is All Thanks to a Viral TikTok Trend
As POPSUGAR editors, we independently select and write about stuff we love and think you'll like too. If you buy a product we have recommended, we may receive affiliate commission, which in turn supports our work.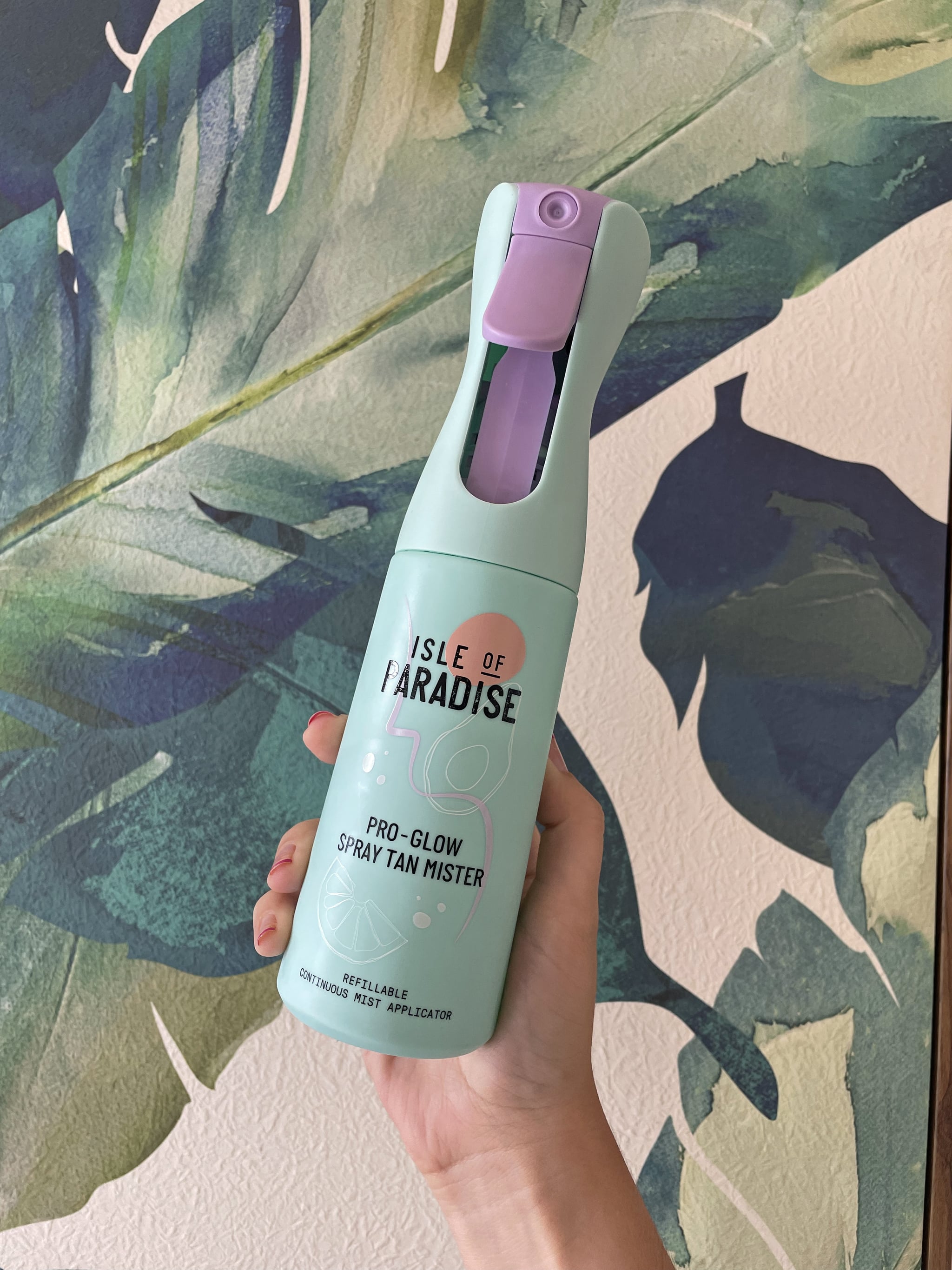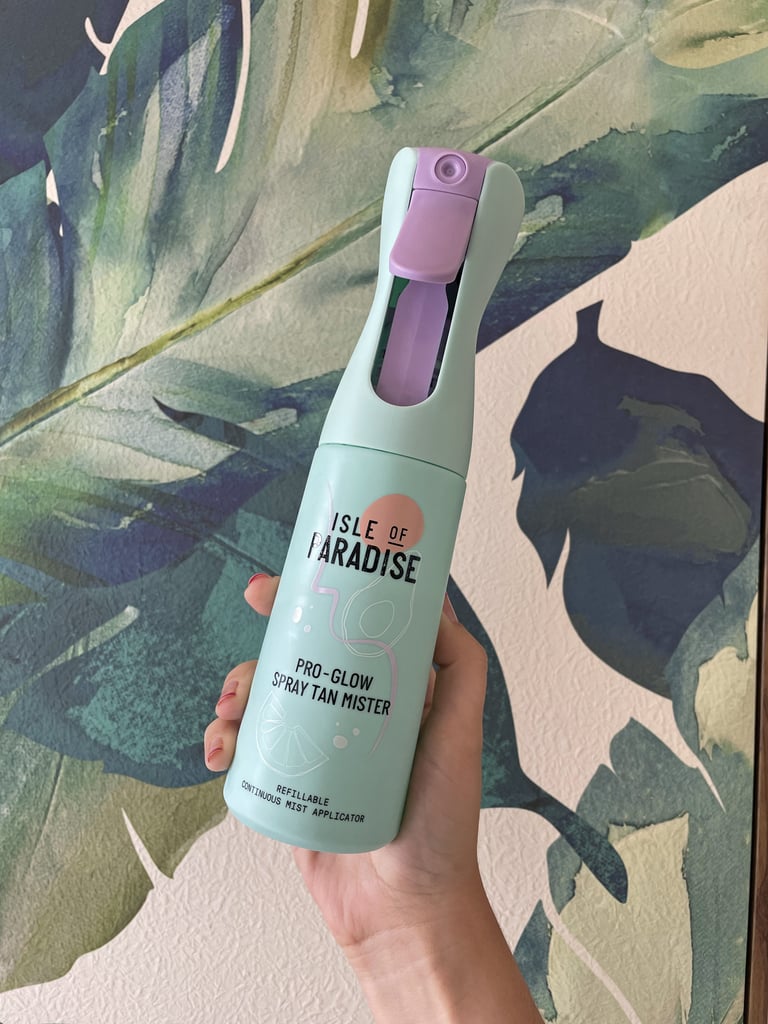 TikTok is a goldmine for inspiration. Whether you're an amateur hairstylist looking for new tutorials to try or a dedicated Sephora Beauty Insider always on the hunt for new products, we guarantee you'll find videos on the app that'll get your creative juices flowing. But fellow creators aren't the only group inspired by what they see. Every once in a while, a TikTok video sparks a new idea for a brand and magic happens, which is exactly what lead to Isle of Paradise's newest launch: the Pro Glow Spray Tan Kit.
Earlier this year, TikTokers discovered that Isle of Paradise's Self-Tanning Water Refills (£14) worked really well with continuous mister bottles from Amazon. A handful of videos went viral showing just how easy it was to get an at-home spray tan when you paired them together. This prompted the self-tanner brand to create their own kit, and it launches today at Boots and on Boots.com. I give you: the power of social media.
The Isle of Paradise Pro Glow Spray Tan Mister (£11) is a continuous mister in the brand's signature bright teal and lilac colouring. And no, it's not the exact same bottle that consumers were purchasing off of Amazon. "The bottles people were buying off of Amazon or the beauty supply store are made for wetting hair or for watering plants," Von Hep told POPUSGAR, so he decided to make some tweaks to ensure you got a mess- and streak-free application. "The texture of the bottle is grippier so your hand doesn't slip. Usually you've just applied moisturiser to your hands and knees before tanning, which makes the bottle you can get off of Amazon a bit hard to hold on to," he explained. "This bottle also features a more continuous spray, a 360-degree nozzle, and it sprays slightly further, which is very useful for getting your back or behind your legs." Lastly, Von Hep ensured the cap locks tight, since you absolutely do not want to spill tan whilst you're spraying yourself.
"The original TikTok video has over 2M views and subsequently resulted in our Self-Tanning Water Refills selling out in just 48 hours, so our customers really were on to something," Isle of Paradise founder Jules Von Hep said in a press release. "From concept to creation, the PRO-GLOW Spray Tan Mister has taken just short of six months, whilst our products normally take around twelve months from ideation to execution. With new trends popping up every day, we had to act quickly to make the Mister a reality."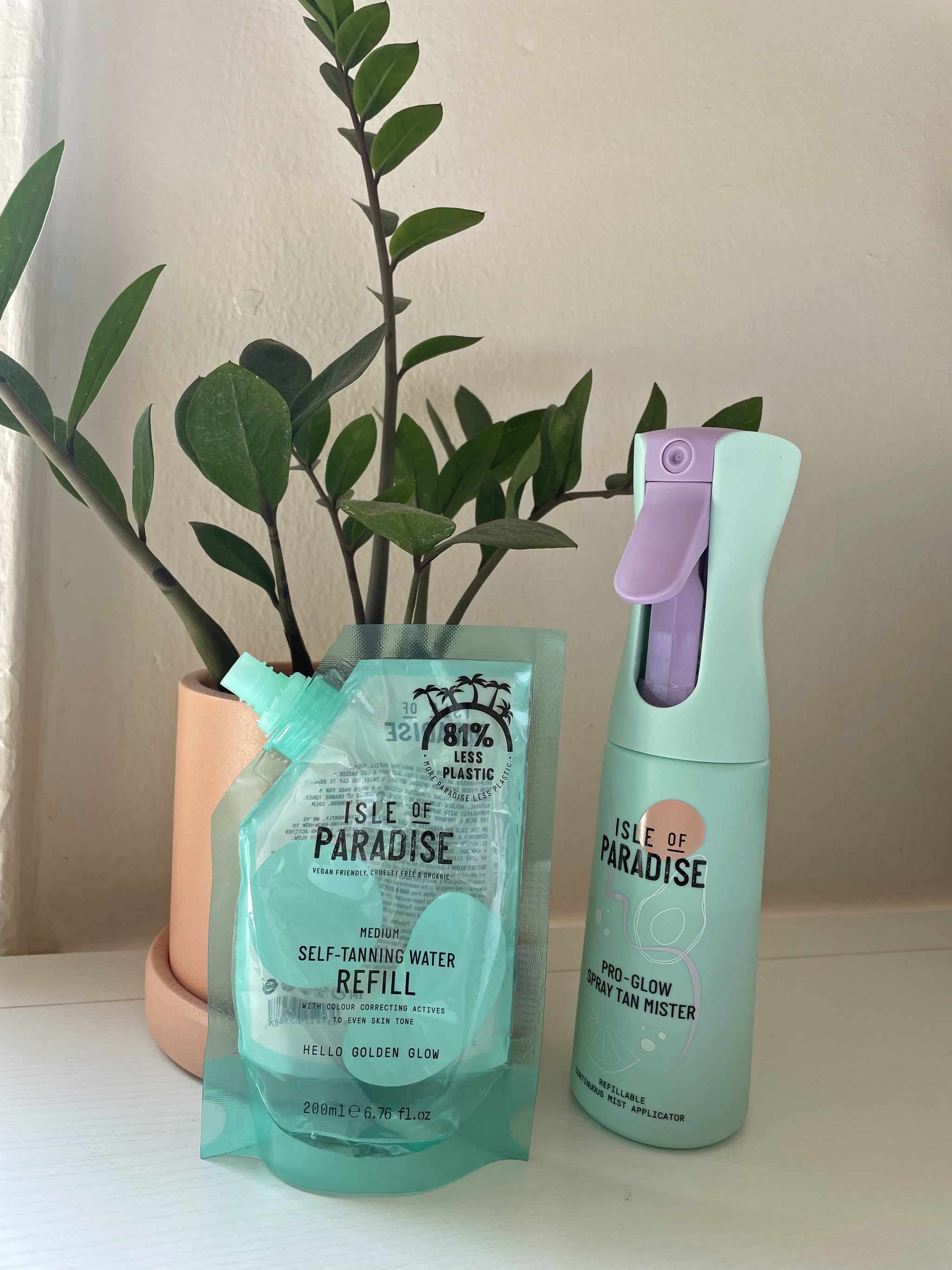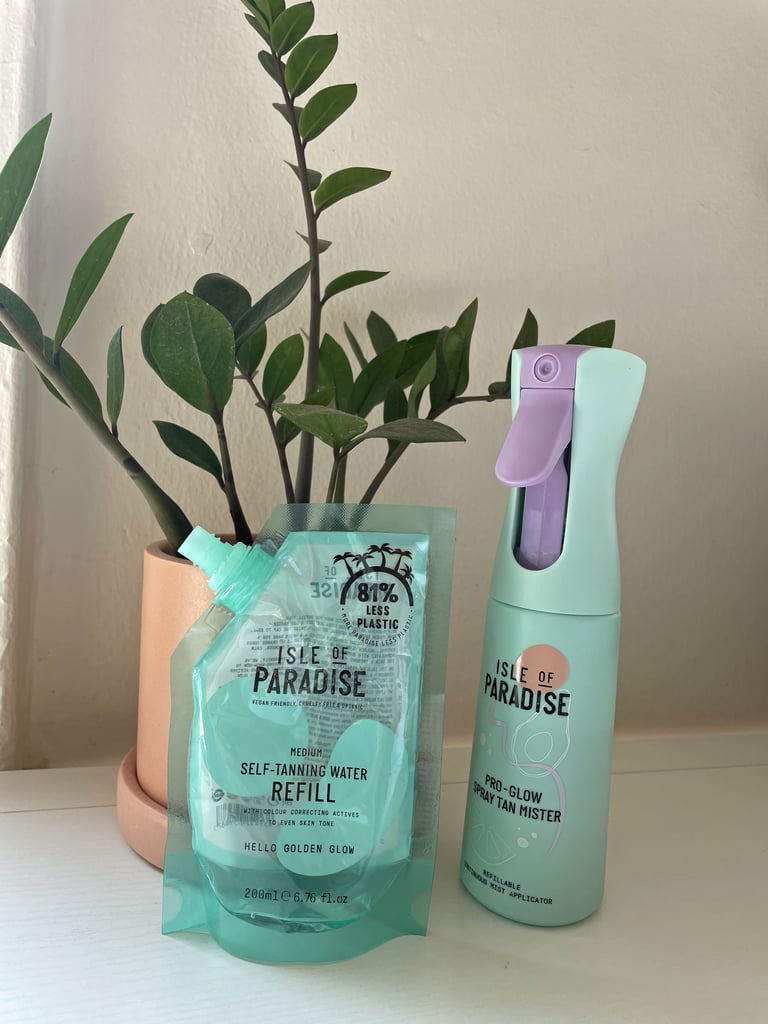 As a longtime fan of the brand, I couldn't wait to try the new self-tanner kit for myself. I had resisted the urge to purchase the Amazon mister when I first saw the viral video pop up on my For You Page months ago, but I wanted to experience the hype firsthand. To prep for my DIY spray tan session, I showered, exfoliated, and moisturised the day before, so that my skin would be smooth and ready to go (this is self-tanning 101). I filled the mister bottle with the self-tanner pouch and then opted to stand in my shower to make for easy clean up.
Now, before you begin, there are a few additional supplies you're going to want to have on hand. The first is a body moisturiser to coat your knees, elbows, feet, and any other dry areas with a thin barrier, so the colour doesn't stick there. (This is especially important for your feet when using the mister bottle, because some of the colour is going to fall as you spray.) You're also going to need a mitt to rub in the colour after you spray yourself to ensure there are no streaks. Lastly, you'll want some sort of body wipes to wipe off the bottom of your feet, so you're not left with orange soles when it's all said and done. You'll thank me later.
With all of those items within arm's reach, I stepped into my shower (naked, bottle in hand) and decided to test it on my legs. The continuous mister allowed me to get from my ankle to the top of my thigh in one pass. Once I did the front, sides, and back, I grabbed my mitt and buffed in circular motions. It's important to note that Isle of Paradise's tanning waters don't have a colour guard, so you can't necessarily see where you're spraying — this can be tricky for first-timers.
Compared to the spray bottle that the tanning waters come in, I much preferred the continuous mister bottle. As a few TikTokers have mentioned in their videos, the original bottles can be challenging to spray if you're doing a full-body tan. The mister is also far less messy and doesn't get all over your hands and makes reaching the back of your legs a breeze.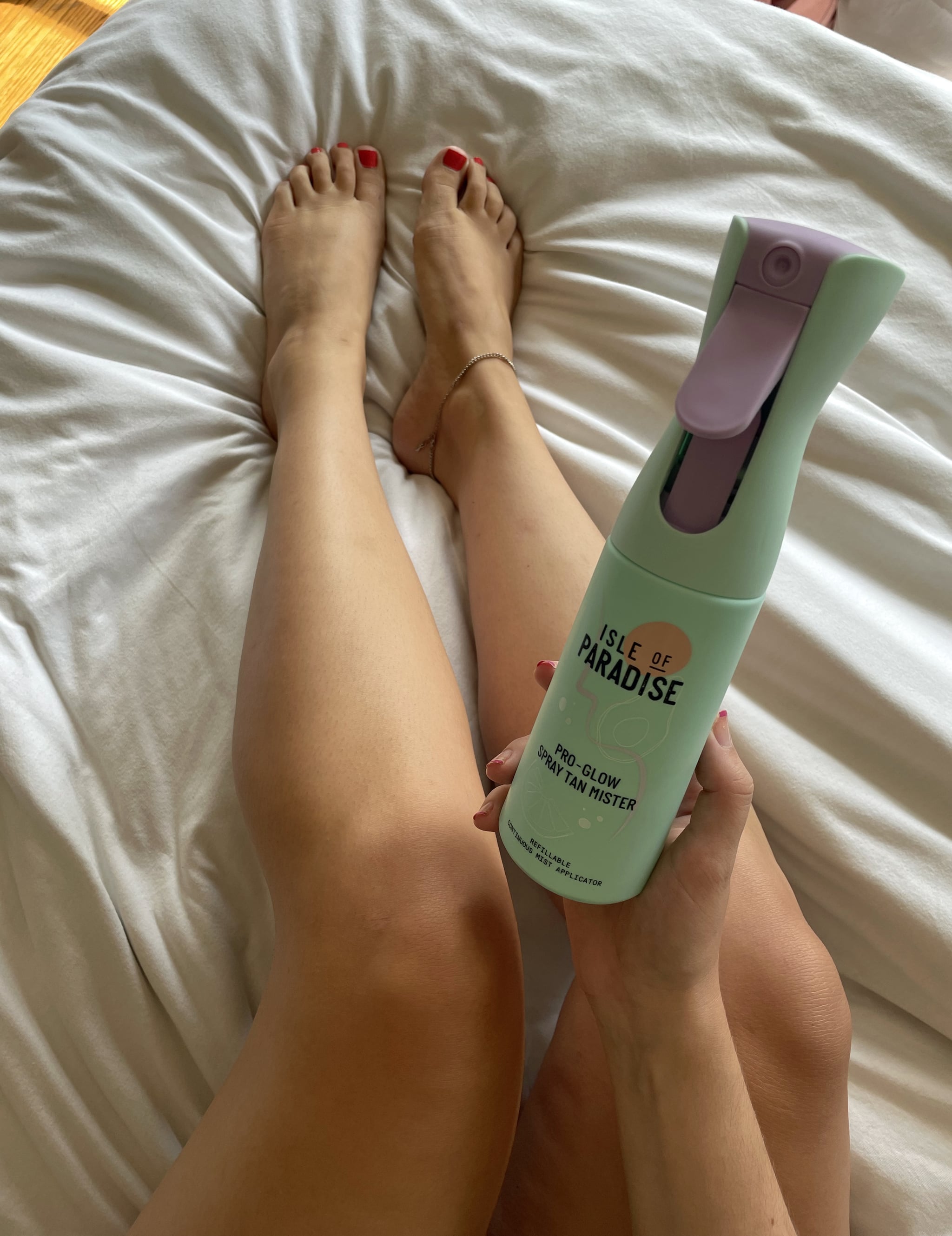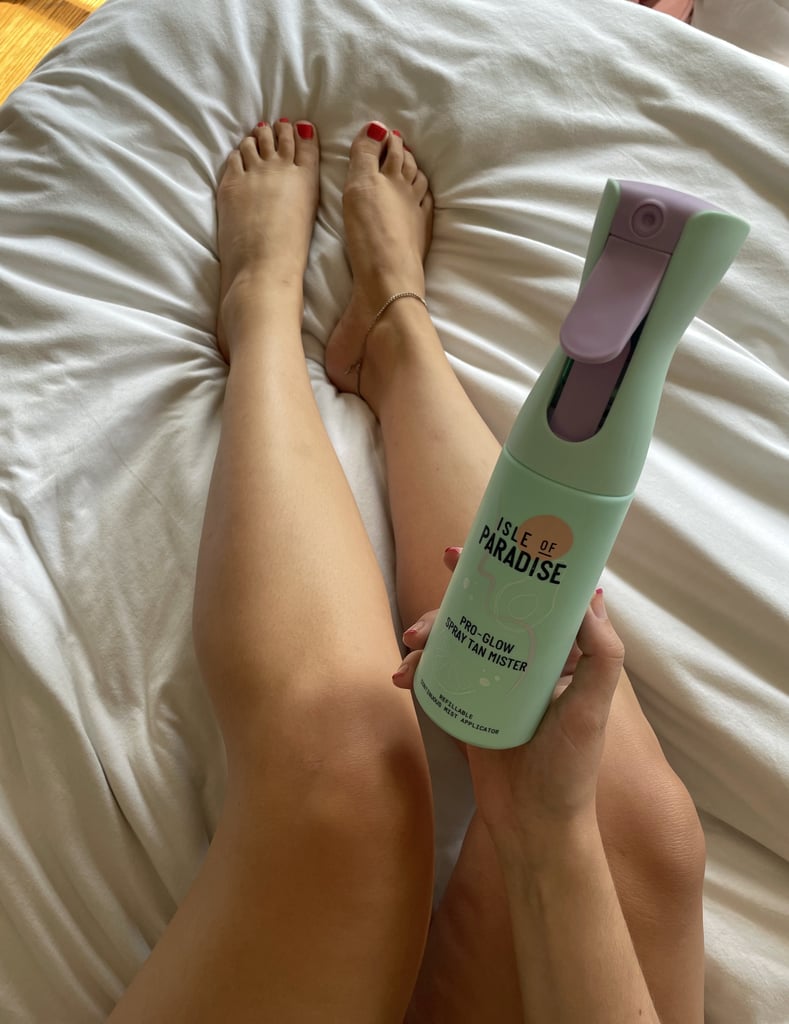 After I finished spraying my legs, I made sure to wipe the bottoms of my feet with a makeup wipe to get any colour off that I may have stepped in while standing in the shower. Then — and this is an important step not for your tan, but for your well-being — I diligently rinsed out my shower to wash away any residue, so that I or boyfriend don't accidentally stain our feet or, worse, slip.
The colour from the Isle of Paradise Self-Tanning Water develops in four to six hours, but I could immediately tell I got great, even coverage with the spray tan mister. I'll be using this bottle to apply my self-tanner from here on out. There's no going back.
Rating:

Image Source: POPSUGAR Photography / Jessica Harrington