HIGHR Collective Adds 3 New Nude Lipsticks to the Range
HIGHR Collective Adds 3 New Nude Shades to Its Range of Carbon-Neutral Lipsticks
As POPSUGAR editors, we independently select and write about stuff we love and think you'll like too. If you buy a product we have recommended, we may receive affiliate commission, which in turn supports our work.
When HIGHR Collective burst onto the beauty scene six months ago with its organic and carbon-neutral lipsticks, the brand upped the ante when it came to defining what makes a sustainable makeup product. And whilst the original five lipstick shades were limited to reds and pinks, its three new hues launching this month are all in the nude family, from a sheer beige to a distinctly 2021 version of a '90s brown tone. If you've been in the market for a nude lipstick that's also natural and environmentally conscious, this may just be the time to invest.
"HIGHR's New Nudes lip wardrobe encapsulates a nude for every mood," said makeup artist James Molloy, whom HIGHR tapped to create the looks you see in the campaign images for the launch (shown above). Whilst the three neutral tones appear to follow the "light, medium, dark" paradigm — so the lightest hue being for light complexions and the darkest hue for deeper complexions — all three nudes were developed to work on a wide variety of skin tones. "I love the approach of the brand," Molloy said, referring to HIGHR Collective's commitment to ensuring its lipstick shades are inclusive. "Wearable across skin tones and types, these are nudes that you can dress up or dress down."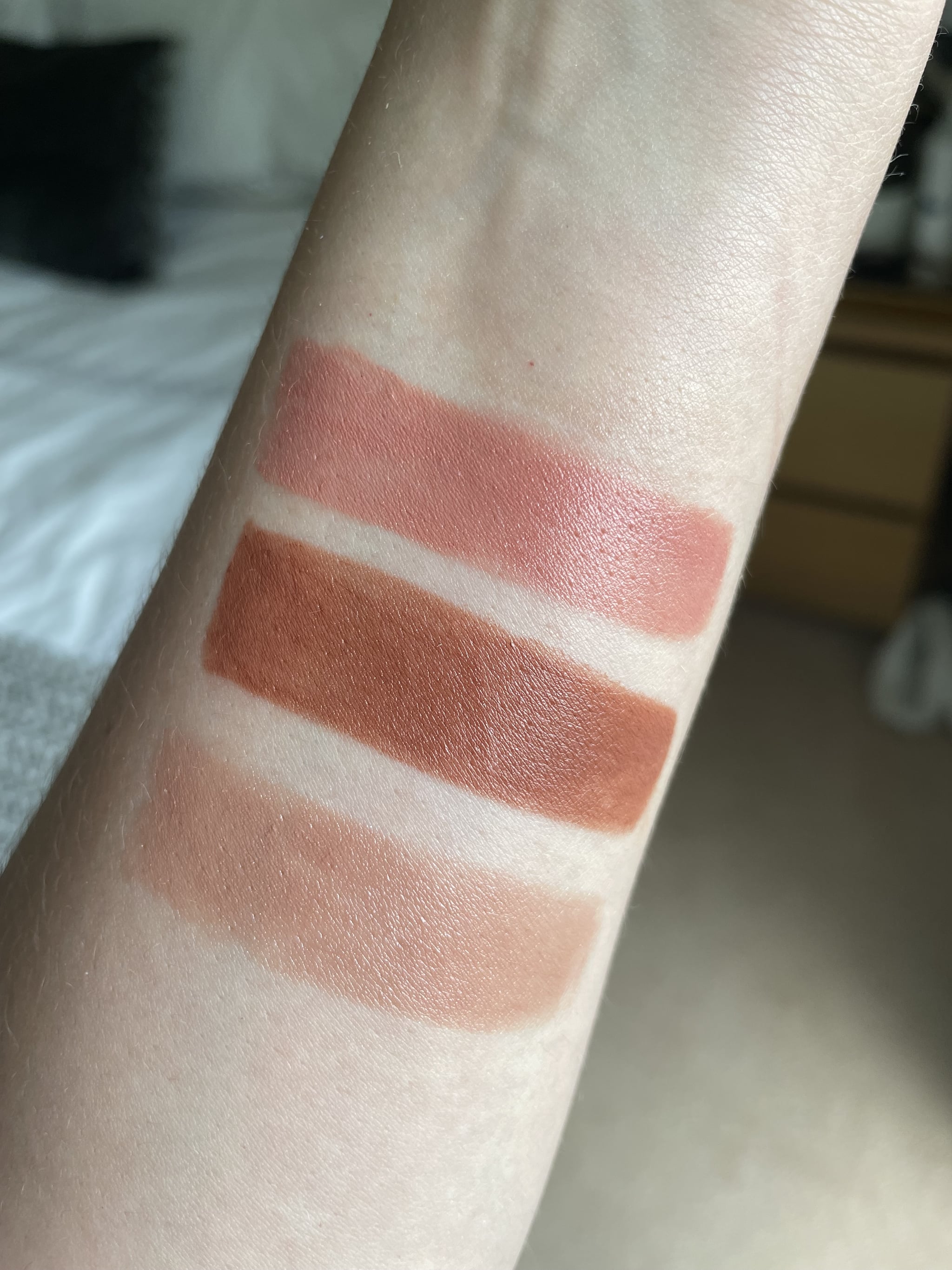 Image Source: POPSUGAR Photography / Sophia Panych
HIGHR Collective Lipstick swatches: Lips on Acid (top), Rhapsody 21 (middle), It Was All a Dream (bottom)
So what are these three new neutrals? First up is It Was All a Dream, which is a sheer toffee colour with the faintest hint of rose-gold shimmer (like, it's basically imperceptible). "It Was All a Dream is a super-easy, sophisticated take on a sheer nude that looks great on dark and light skin tones alike," Molloy said. "I love using this shade to press lightly into the lip for a natural-looking glazed effect. It's easily applied with fingertips for this look. Or you can team it with a neutral lip liner and swipe straight from the bullet to build up the intensity."
Lips on Acid, on the other hand, is a peachy-pink colour that's decidedly more peach than pink. Molloy described it as "the perfect brightening summer go-to", adding, "I love this shade for an easy upgrade to your look, giving a your-lips-but-better tone. It's flattering on all skin tones and adapts to your own nude."
Last but not least is Rhapsody 21, which is a medium-toned honey brown colour. "With the return of the '90s nude in full swing, Rhapsody 21 is the ultimate modern cool-girl honey," Molloy explained. "It's brilliant as an everyday nude [lipstick] for dark warm skin tones or dabbed on fair skin tones for a deep '90s vibe."
All three shades feature the brand's creamy, fragrance-free, vegan formula that utilises candelilla wax versus beeswax or synthetic beeswax. "It's a nice, matte wax that, when you blend it into the butters and oils, gives it that nice grip you want from a lipstick," founder Molly Hart told POPSUGAR. That grippy-ness also ensures you get a nice layer of intense pigment in one swipe, whilst the natural oils and butters in the formula make it so the lipstick stays creamy and comfortable to wear all day long.
Keep reading to see and shop all three new HIGHR Collective shades.