Hailey Bieber on Perioral Dermatitis and Lockdown Beauty
Hailey Bieber on Perioral Dermatitis and How Lockdown Changed Her Approach to Beauty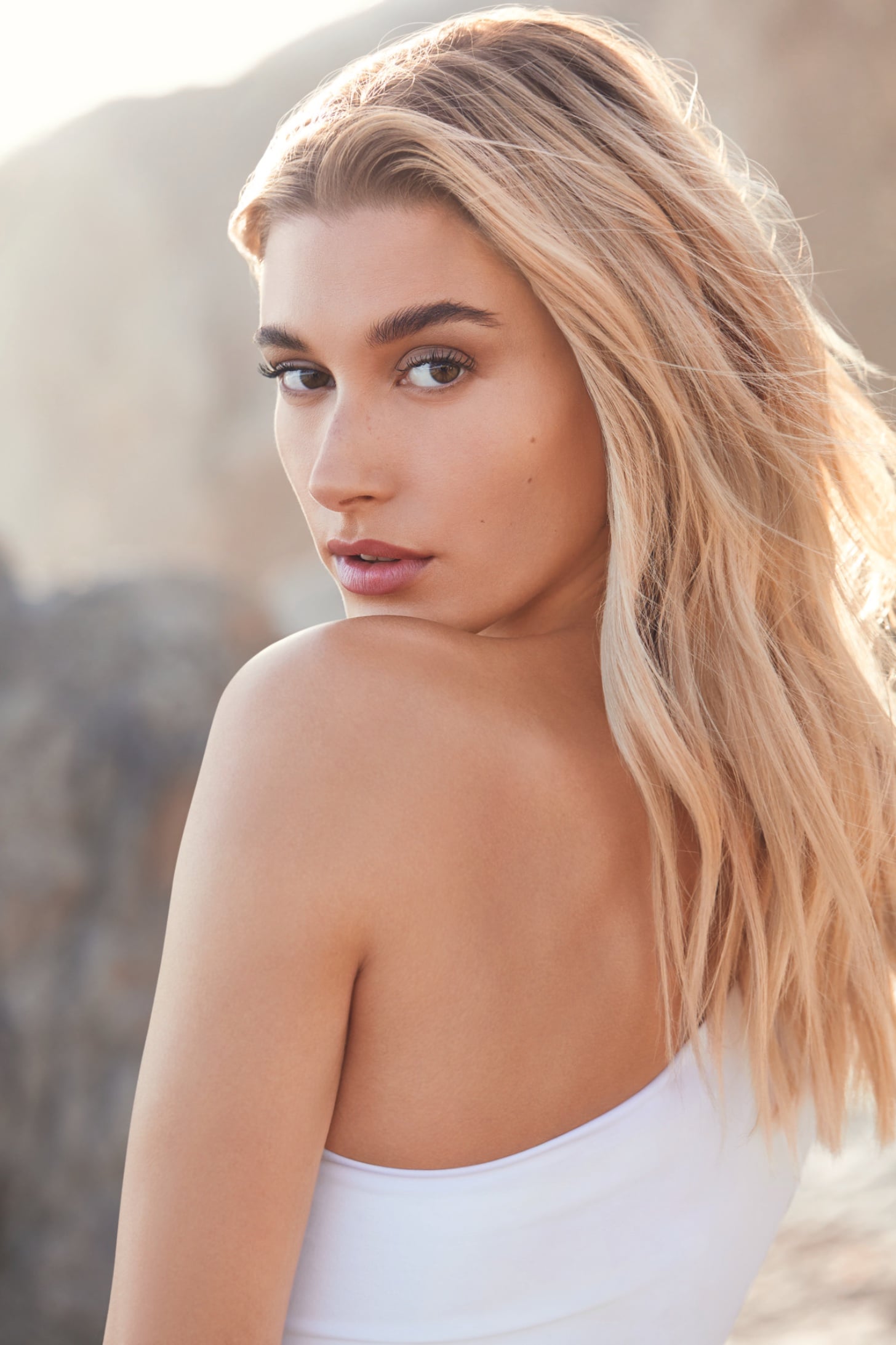 Hailey Bieber's love of all things beauty is undeniable — so much so, that there are rumours of her own beauty brand being in the works (but we'll save that for another day). Her impressive career as a model means the 24-year-old has worked with some of the best makeup artists and used some of the best brands in the world — and as Bare Minerals's Clean Beauty Ambassador, she gets to dive even deeper into that passion. We caught up with Bieber to chat about all things beauty including her perioral dermatitis, lockdown's affect on her routine, and, of course, her favourite Bare Mineral products.
POPSUGAR: In the past, you've opened up about your perioral dermatitis. Has that changed your approach to skin care and makeup at all, and are you more conscious of the products you use because of that?
Hailey Bieber: Yeah, I definitely am. I'm conscious now in general. It's because I've gone through enough flare-ups of it where I've realised what might set it off or what's starting to irritate me that might bring it out.
The products I use are a big part of that. When I'm working, working, working, working, working a lot, my face is just getting touched a lot, and [people are using] different types of makeup with different ingredients; it can start to really irritate my skin, and I can start to see that it might cause a flare-up. If people use dirty brushes or anything by accident, that's another big thing. Or if I don't wash my own makeup brushes, which I'm very diligent about now. I think I've paid attention to — and I still pay attention to — what could irritate my skin.
At a certain point, if you have a skin concern like perioral dermatitis, I do think it's important to talk to a dermatologist about what the best thing is to use for that, because I do think that in certain cases, a prescription medicine is going to be your best bet. That's why they exist, that's why dermatologists are there. I have something from a dermatologist I would use if I was having a really bad flare-up of perioral dermatitis.
PS: Have you found since spending more time at home during the pandemic that your beauty routine has changed at all?
HB: During the pandemic, everybody has scaled back in a big way. I think people have taken a step back and started looking at their skin a lot more and their skin care and their skin-care routine, because for so long, we were not going anywhere, and everything was on Zoom. I do think it's really changed our beauty routines — it has for me.
I think what happened for me during the pandemic is I took a deep dive into skin care. I've always been interested in skin care, I've always taken very good care of my skin, and I've always paid a lot of attention to that. But I decided to take a deep dive in terms of knowledge and information and having different conversations with different people who are educated in the skin-care space.
My routine changed a bit as I've started double cleansing, which I'd never done before — so oil cleansing and then second step cleansing. That's been a big game changer for me only because I used to struggle with figuring out how to get makeup off well at the end of the day without irritating my skin by washing it two or three times to fully get it off. Also, I'm at an age now where — I know I'm still really young, I'm 24, but I'm turning 25 in a couple months — where I'm crazy about preventative beauty, and I'm playing around with retinol. My mum was always very strict about that, and she looks amazing at 54 now. BareMinerals has its Phyto-Retinol Face Cream (£52), which I love because it's so gentle, especially because I'm still really young.
I want to try to pay attention to where I feel like my skin is changing. Whether it's in the environment I'm in or work or stress or hormones or whatever it is, I'm just trying to pay attention to what I feel like my skin needs, and that changes from time to time.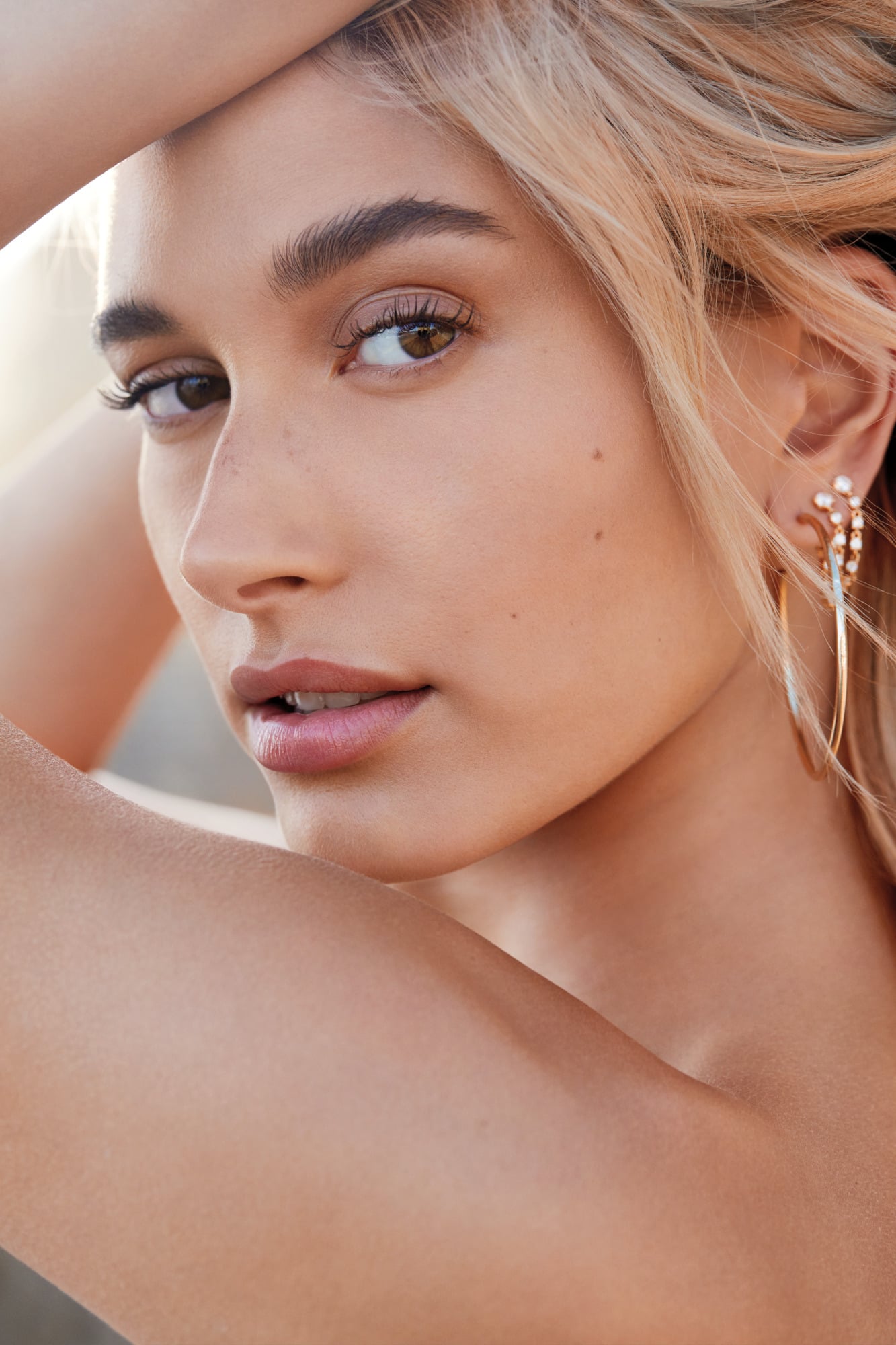 PS: Favourite product time — if you had to choose one all-time favourite BareMinerals product, what would it be?
HB: That is so mean! OK, what about if we do this? If I could only have the top four things in my bag and that was all I could keep for the rest of my life would be.
PS: OK, go . . .
HB: They would be, the Mineralist Gloss Balm, it's everything. Also The new Original Liquid Mineral Concealer (£24). OK, I have two left. The Strength and Length Mascara (£32) and the Mineral Veil Powder (launching soon).
PS: We need to know how you get such a flawless foundation base? Any tips?
HB: I think, in general, having a good skin-care base before you apply your makeup is really important. I've always learned a lot from working with makeup artists who I'd notice prep with very thorough skin care and how it always made a big difference in the makeup. I always paid a lot of attention to that when getting my makeup done. So, prepping your skin is very important to how the makeup is going to lay on your face. For me, when it comes to foundation — I use the Original Liquid Mineral Concealer — I do prefer to apply it with my fingers, because I think it gives a better finish. Then, at the end, I blend it out with a brush if I even need to.
Image Source: BareMinerals