Should You Do Your Own Wedding Hair and Makeup?
I Did My Own Wedding Hair and Makeup, and This Is What I Learned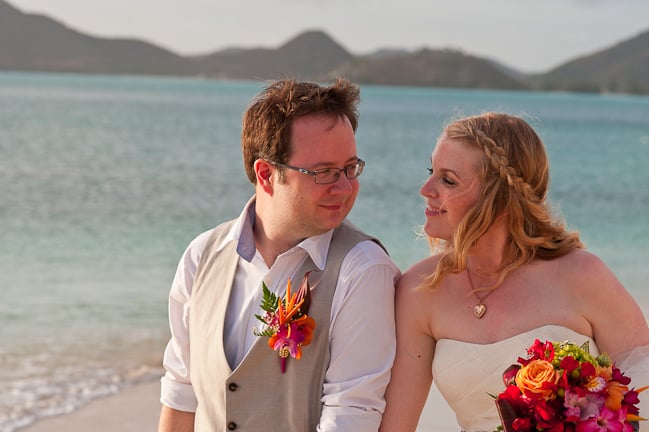 I never even entertained the idea of hiring professionals to do my wedding hair or makeup. While many women love the idea of being pampered by an expert, I clearly have trust issues. I've seen too many brides walk down the aisle looking nothing like themselves, with overdone, old-fashioned hair and heavy makeup they'd never wear in real life. I know there are a whole host of seriously talented makeup artists and hairstylists out there who do an absolutely brilliant job on their bridal clients, but I simply wasn't willing to take the risk and end up with one who didn't. We got married abroad and flew in only a few days before the wedding. I didn't have the luxury of a trial run. Did I trust a stranger to get it right the first time? No way in hell.
So that's how I ended up, on the big day, frantically attacking myself with a little too much bronzer in a tiny bathroom mirror, furiously winding my hair around a curling wand that refused to heat up properly (top tip: UK voltage hair tools don't work very well in the Caribbean), and complaining to my mum that I looked "crap." Do I regret it? Not on your life. Because despite a little wobble, I enjoyed having control. I liked the fact I only had myself to blame for any issues. But I did learn a few valuable lessons.
I looked like me, not someone else's interpretation of me
I've had makeup applied professionally a number of times, and while they've always done a good job in terms of application, more often than not I couldn't wait to get home and remove it. They used colours I would never normally use, picked formulations I wasn't familiar with, or just plastered on far too much makeup. I love to experiment on nights out or for big events, but most days I wear very little makeup. I wanted to be a fresh, laid-back, quite bohemian beachy bride. I didn't really see the point in paying for that when I knew I could achieve it myself. Similarly, I have a huge fear of the overdone "hairdresser blow-dry," which inevitably makes my thick, wavy hair look a little too much like Jennifer Aniston circa 1997 when new stylists tackle it for the first time. I've spent 30 odd years getting to know this hair, and I'm pretty good at coercing it into doing what I want to do.
It wasn't about the money
Though the cost-saving aspect was a bonus, I didn't do my own hair and makeup because I wanted to save money. If you're not confident of your beauty skills, it really can end up being a false economy. If you don't think you can do it yourself, don't try. It's too stressful and not worth the risk that you might hate your own handiwork later on. Professionals are professionals for a reason. It's absolutely worth siphoning off budget from elsewhere if you're not confident in your own abilities. There are affordable ways to get a pro job: use an app like Priv or The Glam App, visit a beauty counter, or call on a talented friend. Unless it's a necessity due to budget, only do your own hair and makeup because you want to. I was passionate about it and had faith in my own ability. I've always enjoyed styling hair in particular and had done wedding hair for two friends in the past. They were far more intricate updos, so after mastering them, I was confident I could pull off the beachy waves and plait that I wanted.
I let the venue influence the look
"Polish" is not something you can easily achieve in the Caribbean, so I was very honest with myself about what was possible. I knew I couldn't wear a lot of makeup in the heat, so I spent a lot of time looking after my skin in the months before the wedding. The day of our wedding was quite humid and windy, which made it all the more important for me to keep my hair off my face. The loose miniplait I'd imagined had to be tighter than I'd first planned, but it ended up being my saviour. Throughout the photos I had to keep moving my hair out of my face, and it would have been 10 times worse without that plait to anchor the front layers. The wind also meant the curls dropped quickly, so the "crap" hair I complained about while I was getting ready (because it looked a bit too neat) quickly became even more messy than I'd intended!
I invested in the right tools and practiced (a lot)
The money I saved by not having a hair and makeup artist mostly went on trusted products I've enjoyed long after the wedding. I knew that my favourite mascara (YSL Mascara Volume Effet Faux Cils Babydoll) dries out quite quickly, so I stashed a fresh tube to use on the day. To battle the heat I combined two bases, Tarte Amazonian Clay Full Coverage Foundation where it was needed to even out the skin tone and cover any redness, followed by Bare Minerals Original Foundation, which I've used every time I've been photographed or filmed with great results (one cameraman even asked me what I used because it looked so good on camera). The unfaultable Urban Decay Naked Palette gave me my "daytime bronze" eye, and Anastasia Dip Brow ensured my fair eyebrows didn't disappear in photos. I treated myself to two new products to finish the look, Tom Ford lipstick in Indian Rose (very close to my actual lip colour, so I didn't have to worry about topping up too often) and Charlotte Tilbury Filmstar Bronze and Glow. I must have practised my makeup at least a dozen times before the wedding. My hair I was a little more relaxed about. I knew I wanted it down, and in the humidity, my natural waves were the only option. I got my colour topped up before we flew, and packed Moroccanoil, intensive conditioner, and hair powder to help me on the day. Packing a holiday suitcase forced me to really think about the must-have products I couldn't live without. As a result, I had no excuse to overdo it!
I got over my stress and loved everything . . . almost!
Yes, there was a moment, when I was hot, bothered, and nervous, when I regretted not just letting someone else do it all for me. I now believe it's basically impossible for a bride to get ready for her big day without at least one little wobble. However much time you give yourself, it'll be at least 30 minutes less than you need. But it came together in the end, and once my sister-in-law laced me into my dress, I was happy. When I look back on my wedding photos, the biggest thing I notice is the massive smile on my face. It doesn't matter what lipstick I have on. It doesn't matter that my hair is far more windswept than I'd anticipated. It doesn't even matter that, after I was left alone in our hotel room to wait for my dad, I had a moment of idiocy that caused me to top up my bronzer and highlighter when I definitely didn't need to. I learned that striving for perfection on your wedding is a waste of time. I don't care that there were clouds, or that the music didn't start when it was meant to, or that I had too much bronzer on. Our day was perfect because of its imperfections.
I would absolutely recommend that other brides do their own hair and makeup, but only if they feel confident in their abilities. It's easy to make mistakes, so don't cut costs unnecessarily if there's an option to do so elsewhere. (Do you really need those chair covers more than you need a perfect blow-dry?) For me, the DIY look worked with the venue and our laid-back theme. But I salute the pros who tackle more complicated updos or traditional makeup looks. Your decision depends on your final look, but I would say this: on your wedding day, you should look like yourself, and if you know how to do that best, have faith!
Image Source: Joseph & Janet Jones / Antigua Brides